Thriller set in LONDON during a pandemic lockdown
20th April 2020
Lockdown by Peter May, thriller set in London during a pandemic lockdown.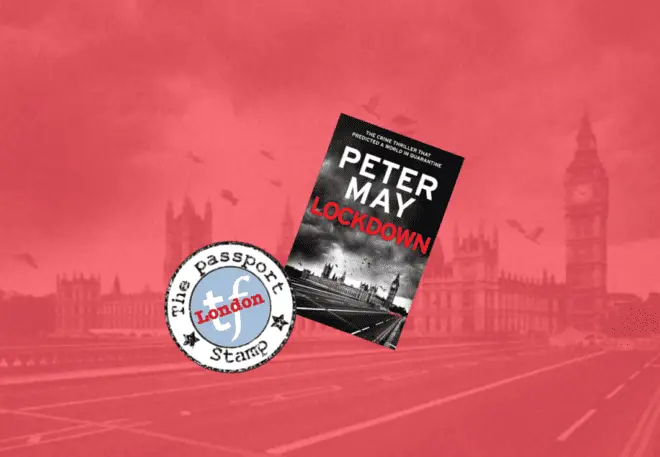 Is now the time to read a thriller that mirrors the experience we are going through internationally because of Coronavirus? It's a tricky one, isn't it? We ran a poll on Instagram Stories asking whether people would choose to read a book full of plague (in the book it is bird flu, H5N1 causing the problems), contagion and authoritarian measures to keep people towing the line – 60% said yes, they would choose to read it.
As the book opens, builders are fast tracking a hospital on Lambeth Green but one morning they make the grim discovery of a bag containing the bones of what turns out to be a girl of around 10, whom the police dub Lyn. She was of Asian heritage, she had a cleft palate and the flesh was stripped from her bones. The pressure of building the much needed hospital is palpable and the site needs clearing of the crime. DI Jack MacNeil is in charge of the case and to help he has Amy Wu, his forensics expert, who will be reconstructing the features of this child to help work out who she was and why she died and why her remains were dumped so unceremoniously.
The manuscript has been around for 15 years or so and the author never found a publisher. That is until now. It was deemed too unlikely a scenario. Well, let me tell you, much of the imagined lockdown, judging from what is currently happening, is spot-on. He did his research well. Police and army on the streets monitoring people's movements is happening across Europe as I write this. Certain cars are allowed to pass for key people to go about their business. No-one stands too close. The virus hops from person to unguarded person.
What was it like to read a book that so closely reflects the current situation? It actually felt like I had walked onto a familiar set. Often, when I watch TV at the moment and see an older show, I have to remember that it was once OK to embrace someone without thinking, stand close to them, touch them…. Now, of course, that is taboo and in the novel everyone keeps their wary (and weary) distance – much like it is now April 2020.
The author clearly likes to detail setting, and London, even though it is going through a worrying, dystopian period in the novel, is very recognisable. Forest Hill is where DI MacNeil lives with his wife and son – it was where I was born and grew up and therefore I was charmed to find this leafy suburb featured in a book. Over on the Isle of Dogs there is an enclave of people keeping others out; they are virus free and therefore aggressively holed up, keeping themselves safe. The action moves around South London and into the centre and provides a good and graphic backdrop for the fast paced action.
Currently available in digital format and coming in paperback at the end of April 2020.
Tina for the TripFiction Team
Catch Peter May on Twitter, Facebook
Join team TripFiction on Social Media:
Twitter (@TripFiction), Facebook (@TripFiction.Literarywanderlust), YouTube (TripFiction #Literarywanderlust), Instagram (@TripFiction) and Pinterest (@TripFiction)