20 Favourite Books set in Paris
23rd March 2014
As thoughts turn to Spring, this is a list of some of our favourite books set in Paris – as rated by members of the TripFiction community. Just click on the title to get fuller details of each…
Quite a few unusual choices, in no particular order. Is your favourite among them? Please let us know by using the comment box below!
In June 1940, Paris fell to the Nazis who made the world's cultural capital their favourite entertainment ground. Music halls and cabarets thrived during the occupation, providing plenty of work for actors, singers and musicians – except for Jews….
Quiet Corners of Paris is a beautifully illustrated peek into eighty-one often overlooked, always beautiful, locales: hidden villas, winding lanes, little-known 19th-century passages, serene gardens, and cobblestone courtyards. Some of the places have breath-taking views, others are filled with…
Set in an international high school in Paris, YOU DESERVE NOTHING is told in three voices: that of Will, a charismatic young teacher who brings ideas alive in the classroom in a way that profoundly affects his students: Gilad,..
4. Madeline – by Ludwig Bemelmans
'In an old house in Paris that was covered in vines lived twelve little girls in two straight lines…' Something is not right with little Madeline. Her friends are sad when she goes to hospital to have her appendix…
Following closely on the heals of Chocolat, Zozie de l'Alba enters into Vianne and Anouk's life (now calling themselves Yanne and Annie), seemingly from nowhere and they become friends. But Zozie is not quite what she seems. With a…
Anna has just had her heart broken in LA. But unlike most women who have been unlucky with love, she has an enviable backup plan – she uses her dual citizenship and moves to Paris to live in her…
Each morning Mathilde takes the Metro to her job in the marketing department of a large French corporation. Ever since a disagreement with her narcissistic boss, life in the office has taken a turn for the worse. On the…
8. Paris – by Edward Rutherfurd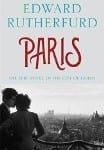 City of love. City of splendour. City of terror. City of dreams. Inspired by the haunting, passionate story of the city of lights, this epic novel weaves a gripping tale of four families across the centuries: from the lies that…
This covers the post war period, and, as always with Beevor, an intelligent and well researched book.
When Julia Child arrived in Paris in 1948, a 'six-foot-two-inch, thirty-six-year-old, rather loud and unserious Californian', she spoke barely a few words of French, and didn't know the first thing about cooking. 'What's a shallot?' she asked her husband…
In a tale of friendship, self-discovery and love, three women running away from their lives become unlikely friends in a beautiful house in the heart of Paris. Lost in France, a country she mistrusts, among French people she hardly…
Three sisters, Antoinette, Marie and Charlotte – the story is told from the viewpoint of Antoinette and Marie, the family is without a father, the mother is oftentimes drunk. It revolves around ballet and Marie catches the eye of…
The only thing that lasts is love, even when it's gone. Three French tutors meet at a small café that spills out onto the sunny Parisian backstreet of Rue du Paradis. Nico, Philippe and Chantal meet here every Wednesday…
Why is the ghost of a distressed woman running through a corridor in the Paris metro? Kay, a translator, finds herself being drawn into a puzzling web involving two gifted musicians, a maker of beautiful jewellery and a morose…
Mastering the Art of French Eating The memoir of a young diplomat's wife who must reinvent her dream of living in Paris–one dish at a time. When journalist Ann Mah's diplomat husband's given a three-year assignment in Paris, Ann's…
In this intelligently-written and supremely entertaining new history, Colin Jones seeks to give a sense of the city of Paris as it was lived in and experienced over time. The focal point of generation upon generation of admirers and…
She can change your life. If only she could change her own…deep in the heart of romantic Paris, in the elegant Sixteenth Arrondissement, at the top of a smart apartment building on Avenue Victor-Hugo, on the sixth floor at…
In the early 1960s, most middle-class American women in their twenties had their lives laid out for them: marriage, children, and life in the suburbs. Most, but not all. "Breathless" is the story of a girl who represents those…
Paris and environs – a Paris that you will not find in guidebooks
Since it opened in May 1889, the Eiffel Tower has become an iconic image of modern times – as much a beacon of technological progress as an enduring symbol of Paris and French culture. But as engineer Gustave Eiffel…
Which books would you would add to the ultimate books set in and evocative of Paris? Come and leave reviews on the site – that way your favourite book will move up the TripFiction rankings AND it is a great way to support authors and get their books known to a wider public! Help build the TripFiction website into a great resource for both actual and armchair travellers alike.
The TripFiction team
Do come and say hello on Twitter, Facebook and Pinterest – there is always lots going on, we talk books, travel and more…