Travels in mythical and modern GREECE
30th November 2021
A Thing of Beauty by Peter Fiennes, travels in mythical and modern Greece.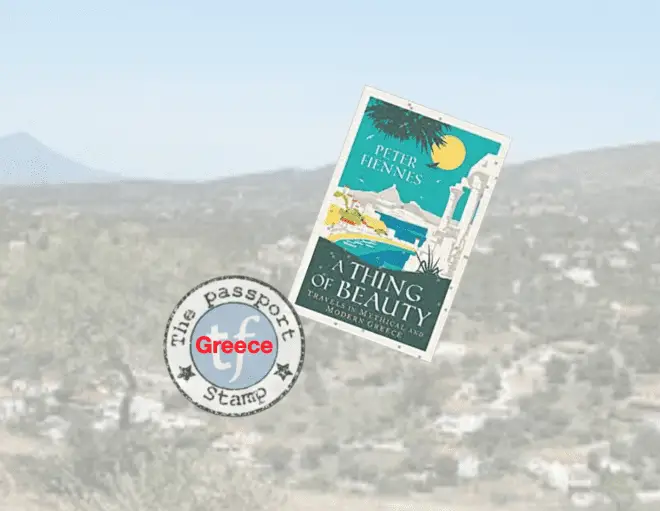 This book of collected travels and musings takes the reader to the heart of Greek mythology. Fortunately, there is a very helpful Glossary at the back which will help to get a handle on all these ancient characters who populate the narrative (phew! I did Latin at school, so only have a passing knowledge of the intricacies of their – at times internecine – endeavours and relationships).  .
There has recently been a marked uplift in interest in the retelling of Greek myths, and several popular novels have found their place in modern literature (you can find top titles in our post Five Great Books Retelling Greek Mythology)
To really demonstrate how Greek mythology is so much part and parcel of literature and culture, the writer chooses to open with Byron…It is striking, once you think to look for it, how much of ancient Greece infuses the poetry and the lives of Byron, Shelley and Keats… Byron, of course, died in Greece at Missolonghi, so he clearly had strong connections to the country.
The author also looks to Pausanius' Guide to Greece, the original Greek travel guide, for inspiration for his meanderings in this book. He sets off, mindful of the impact of global warming – of course over the Summer months the TV news has highlighted the shocking devastation caused by rampant fires across the country and elsewhere in the world. It is a concerning phenomenon to which he returns on several occasions.
in order to tune in with the culture of ancient Greece, the author records his dreams, as they had huge significance and influence in that ancient culture, so he is channelling the experience through into modern day with a nod to the past.
He is soon speeding through Athens, the starting point of his journey and then on to a variety of destinations. He is also, by the way, a glutton for a good Greek Salad and by the time he gets to Corinth, he already has seventeen salads under his belt, literally!
I would love to have seen more photos from the author's travels, as he describes the beauty and colour with grace and enthusiasm. His concern for environmental issues is palpable. This is a book, with dense description at times, that will greatly appeal to diehard enthusiasts of Greek Mythology.
Tina for the TripFiction Team
Join Team TripFiction on Social Media:
Twitter (@TripFiction), Facebook (@TripFiction.Literarywanderlust), YouTube (TripFiction #Literarywanderlust), Instagram (@TripFiction) and Pinterest (@TripFiction)