What's in a book cover when it features a swimming pool?
24th March 2023
What's in a book cover when it features a swimming pool?
For some reason I have always been drawn to book covers that feature a swimming pool. There are a lot around at the moment, and recently several have appeared in my timeline. I began to think about choice of cover a little more. The first thing that attracts me is the draw of a potentially far flung location, somewhere exotic, perhaps,,, then there is the deep blue colour that is so often used, so saturated that I could dive into it. When I go on holiday, I try and choose destinations that will allow me to swim – I am less keen on the sea these days, having been grazed by a medusa (jellyfish) off the coast of Alicante recently – to all intents and purposes it could have been a Portuguese Man o' War for all I knew but I probably wouldn't be here to write this if it had been. So swimming pools seem a safer bet. Or are they?
The curated covers I have brought together for this post have been chosen largely because they depict the hard edges of a pool, and those unforgiving lines add a kind of clarity, the chrome is delineated, glinty and eye catching. Menacing, even. All the novels with such a cover, for the most part, are in the thriller genre. It is therefore interesting to see such a clear use of shorthand – gleaming swimming pool = thriller. As a reader, therefore, you come to know exactly the kind of storyline you will be picking up.
From our point of view the covers also indicate the potential of a strong setting, somewhere far-flung, where life can be lived outdoors, and a swimsuit is de rigueur. This is, of course, alluring to those of us who spend the Winter months under grey skies. And indeed the locations in the depicted selection range from the Veneto to the Hérault, Thailand to The Hamptons and on to Bali and even Lapland!
There is often also the intimation of wealth, if there is a swimming pool anywhere to be seen, which can be a great draw in a plot.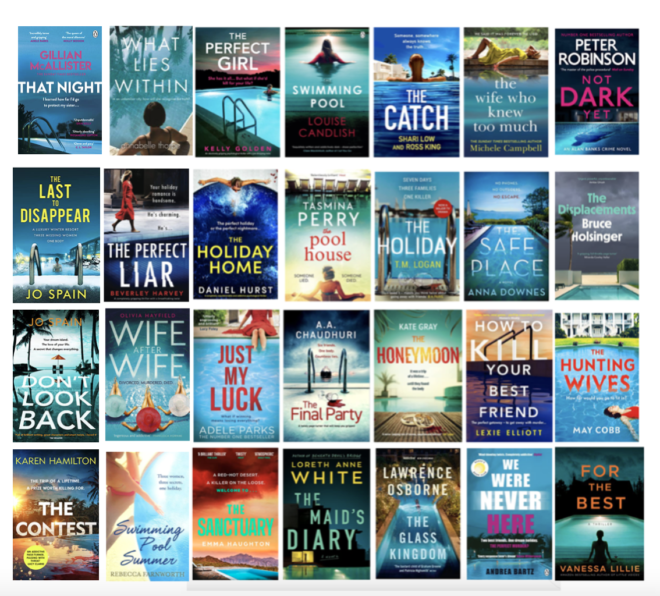 Jo Spain is an author whose novels often rely on the gritty, edgy pool scene to denote frisson and tension in the ensuing storyline and she has at least three titles with swimming pools adorning her covers.
The collated titles above clearly feature swimming pools that are sharp but there is another type of book cover that has a more fluid image of water, which tends generally to be used for stories – which may nevertheless feature a death or murder – but which are less hard nosed. They are also in the main of a much lighter blue. Occasionally a thriller drifts in but mostly the calming waters of a pool in this category suggest a more nuanced story:
Have we whetted your appetite? Brought together a sample of book covers that will tempt you to dive in?
Shout if you know of any more iconic covers with a swimming pool design and do tell us if you are tempted by books that have a swimming pool on the cover! The Comments section below awaits your thoughts!
Tina for the TripFiction Team
All the titles highlighted here can be found on our website
Join Team TripFiction on Social Media:
Twitter (@TripFiction), Facebook (@TripFiction.Literarywanderlust), YouTube (TripFiction #Literarywanderlust), Instagram (@TripFiction) and Pinterest (@TripFiction)