Art Mystery set in London, Venice and New York (The Man With The Blue Sleeve)
22nd April 2017
Titian's Boatman by Victoria Blake, art mystery set in London, Venice and New York.
Reading Titian's Boatman by Victoria Blake is akin to embarking on a highly enjoyable journey through gorgeous settings and two distinct periods of time. This novel is a series of seemingly unrelated stories set in London, Venice and New York City, which slowly intertwine then merge towards the end.
It was fascinating to be privy to the inner thoughts of a master painter, famous courtesan, Venetian boatman, English stage actor, Italian film director, New York City police man, Italian nun, Manhattan cleaning lady, Italian poet and aging movie star. Revenge drives one character, the desire to reach a higher social standing another, fame and perhaps wealth motivates a third, and memories of better times keep a forth going. All of their stories are connected via a single painting, Titian's Man With the Blue Sleeve.
The cast of characters is quite large yet two remain central: Terry, an important British stage actor who is grieving the loss of his mother and breakup with his lover in the year 2011, and Sebastiano da Canal, a gondolier who worked for Titian's friends and a courtesan in sixteenth century Venice.
Each chapter provides a snippet of information which reveals another insight into the character's lives, place and time. The novel reminded me of a jigsaw puzzle that has to be reassembled before one can truly understand it. I was quite impressed by how the author tailored her writing style to the era portrayed and characters described. In all instances, her prose is beautiful and evocative. The short chapters and large cast keep the reader alert and it is a delight to discover what twist or turn the author introduces next.
Based on the book's description, cover design and the fact that the author's father is a well-respected historian, I was expecting a story seeped in historical detail with long, flowery descriptions of setting and place. This novel isn't like that; instead it is a tight series of family histories connected together by bloodlines, servitude and the paintings of Titian. Don't get me wrong, the author's descriptions are lavish and even sumptuous, yet every detail matters. She provides enough information about the time and place to engage and inform, then stops.
Within a span of merely 369 pages, the author covers several important and complex historical events: the Inquisition, medieval punishments, Jews' banishment to the Ghettos, pagan rituals versus organized religion, courtesans and patrons, sons and priesthood, dowries and nunneries, households and creditors. Her explanations are compact and efficient; short, quick scenes that effectively sketch the background of current events and social attitudes held without turning the book into a university lecture.
She has wisely chosen characters whose actions help explain the events leading up to the decisions and attitudes held. Though several of them are based on real people and many of the events described did happen, history provides the outline and the author's imagination fills in the rest.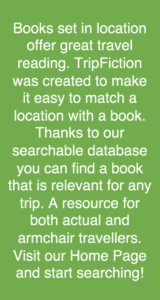 The events happening in both eras mirror each other, informing and supporting each other through a parallel plot structure that works incredibly well. All of the threads draw to a satisfying close, perhaps too happy, but fitting for such a novel. I can imagine on a second or even third read, I would pick up even more connections between time, place and characters.
Art and art history are important to this novel, and the reader learns about Titian's painting practices, use of models and the role of his patrons. The art historian in me loved the art history jokes sprinkled throughout the novel, in particular those concerning the popularity of certain painters and the role of museums educators. "He sighed and lingered just long enough to see what painter they would bring up. His worst fears were confirmed – Van Gogh and his wretched sunflowers. How inevitable!" (page 137) Passages such as these cracked me up, and are an excellent example of the author's subtle humor and gift for timing.
I really enjoyed visiting both historic and contemporary Venice with this author. Her evocative descriptions of place were a pleasure to read and often worked into the text in a most unique way. "He was as transparent as the lagoon" (page 207) is one of many beautifully descriptive examples.
Present day Venice is also described as I recall it. The author shows you the glorious cathedrals, squares and cafes of the city center and take you on a trip around the city, highlighting both the tourist hotspots and local favorites. The city is described by someone who has clearly spent time wandering along the canals and bridges crisscrossing the main islands and riding the vaporettos (water buses) to the outlying areas.
Her descriptions don't just focus on the architecture and famous churches. She provides a realistic look at the use of planks when the city center floods, compares the pigeon problematic at St. Mark's in Venice to London's Trafalgar Square, mentions pricy cafes on historic squares, overcrowded scenic routes along the Grand Canals and eerily empty side streets and squares a few blocks away.
As far as the historical chapters are concerned, the era is as well described as the city of Venice. Readers see the Ghetto and squalor as well as the beauty wealth could provide during and after the plague in the 1570s.
Central London, in particular Trafalgar square and the National Gallery come to life. You feel the rain and winds, crowded streets and irritations with the Tube. I love how she describes the Thames River running through the city: "In a city this crowded, why on earth didn't they use it as a source of transport? Then at least it would have some use; it would get back its pride and dignity. All it had was its ebb and flow, and of course the dubious pleasure of transporting tourists between the two Tates, but there was no dignity in that." (page 128)
Titian's Boatman was a joy to read, as much for the fascinating characters and historical what ifs?, as the setting – both London and Venice. She describes the cities in a way that makes you feel as if you are there walking alongside her characters.
I highly recommend this book to fans of art history, historical fiction, European travel, and pretty much anyone else who loves reading a great book.
Jennifer S Alderson for the TripFiction Team
Jennifer herself is an author who writes thrilling stories set against exceptionally well described settings. You can buy her latest book – The Lover's Portrait – here, a thriller set in the art world. Follow her on Twitter, Facebook, Instagram and via her website
Find all our collaged art themed novels on PINTEREST
Catch up with Team TripFiction on Social Media: Twitter (@TripFiction), Facebook (@TripFiction.Literarywanderlust), YouTube (TripFiction #Literarywanderlust), Instagram (@TripFiction) and Pinterest (@TripFiction)