November 2021 – The Stoning by Peter Papathanasiou, The Outback, Australia
1st November 2021
The Stoning by Peter Papathanasiou, thriller set in the Outback – Australia.
#OutbackNoir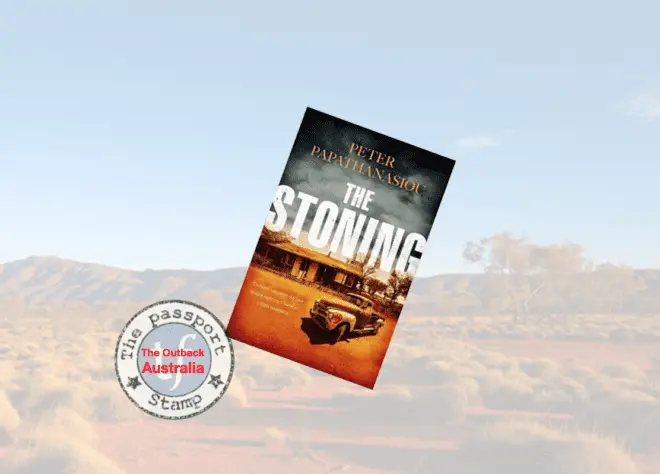 Welcome to fictional Cobb, a small town that sits in the dusty landscape, a truly derelict dust hole. It has seen better days and now the locals have to come to terms with the detention centre thrust into the heart of this unwilling, rural community. People are incarcerated there, who have entered Australia illegally, who have stayed beyond their visa period, desperate souls seeking to find their forever home. Criminals amongst their number for sure! The locals are incensed, and oh, does the author capture the racism, prejudice and antipathy in choice prose!
When a popular school teacher is found dead, seemingly stoned to death, the clamour for retribution reaches dizzying and desperate heights.
George Manolis is sent from the big smoke to investigate, in part because he grew up in Cobb, at a time when things were so very different, when the town had a soul and life was agreeable. He is pretty shocked to see what has become of his home town, where his father ran a thriving eatery and milk bar.
He, of course, has his own issues (which fictional detectives don't?). He lodges in a local American themed hotel but it soon becomes clear that someone in the town is really trying to frighten him off. Manolis is a sanguine man
and approaches the situation with perspicacity and reason, as he pokes around looking for clues. He is taken aback by the shoddy investigating to date, central investment just doesn't seem to have made its way to this barren part of Australia. A community that is forgotten, a community that is angry and hell bent on punishment, regardless of guilt and innocence.
This is a terrifically atmospheric read. The Australian tourist authority won't be knocking on this author's door and yet, this feels in part like the real country – it is unforgiving and hostile and the heat permeates every pore. The wildlife encroaches on everyday life and Manolis is solicitous when he encounters a variety of creatures. The setting is portrayed so convincingly, that you feel you are there with characters. An excellent read for literary tourism.
Tina for the TripFiction Team
Tina for the TripFiction Team
Here the author talks to Writing.ie about his debut novel: "…The Stoning was hatched in a one-bedroom flat in West Hampstead at about four in the afternoon on a wintry Tuesday in late 2014. It was already dark outside. For a writer from Australia who'd never seen the sun go down that early and thought to write about a scorchingly hot outback town, it made for an interesting contrast. But perhaps that was precisely why the idea came to me – the mild feeling of homesickness and the need to escape congested Central London. Never underestimate the power of yearning"
Catch the author on Twitter Insta 
Join Team TripFiction on Social Media:
Twitter (@TripFiction), Facebook (@TripFiction.Literarywanderlust), YouTube (TripFiction #Literarywanderlust), Instagram (@TripFiction) and Pinterest (@TripFiction)