Classic reads to transport you to Africa
13th July 2017
Classic reads to transport you to Africa.
Books set in a location offer great travel reading. Literature – modern or historical – helps us absorb atmosphere in a way that no other written word finds possible. Books help us get under the skin of a place, and see a location through an author's eyes.

In the third of a series of themed blog posts, here are 5 classic novels or memoirs rooted firmly in Africa:
The Tremor of Forgery – Patricia Highsmith : Tunisia
To call The Tremor of Forgery a crime thriller is a little like saying Shakespeare was quite a good writer. As with other Patricia Highsmith novels, there may be a plot structure but it is the characters who interest both writer and reader more. They are often ambiguous, with dubious morality, and rarely one-dimensional.
In The Tremor of Forgery, American writer Howard Ingham arrives in Tunisia to work on a new movie script. But when the Director fails to show up, Ingham decides to stay and work on a new novel. He befriends a fellow American who broadcasts to the Russians, and a Danish homosexual, and is drawn into a murky Arabic world of intrigue and crime.
With a strong sense of locale, this beautifully crafted novel portrays Western morality on a collision course with North African traditions.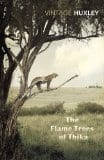 The Flame Trees of Thika – Elspeth Huxley : Kenya
The Flame Trees of Thika is a vivid memoir of a childhood spent in British East Africa. Elspeth Huxley was only 6 years old when her adventurous parents bought some land in a remote part of what is now Kenya, in order to start a coffee plantation.
Covering the brief period from 1912 to 1914, the narrator tells of a hard but always interesting life, spent amongst the Kikuyu and Masai people, where tribal traditions and superstitions always prevailed.
Not written until more than 40 years later, the author's memories have the benefit of adult awareness and parallels are drawn between the challenges of this childhood adventure and the subsequent horrors of the Great War, which forced her family to return prematurely to Europe.
The Sheltering Sky – Paul Bowles : North Africa
This powerful novel has been described as the author's masterpiece.
Set in a stark, bleak, blazingly hot North Africa, in the aftermath of World War II, Port and Kit Moresby look for moral and marital salvation amongst the towns and deserts. Together with their friend Tunner, they see themselves as travellers, rather than tourists, and are searching for much more than a nice holiday experience.
Disaster is inevitable, but probably not in a way the reader ever expects.
Heart of Darkness – Joseph Conrad : Congo
This novella was written by Conrad in 1899. The story's structure allows the writer to relate a morality tale, comparing the so-called civilized people of London with thesavages of Africa. 
Narrator Marlow tells friends in London of his journey up the Congo River into Congo Free State, in the heart of Africa, and where he becomes obsessed with an ivory trader.
Heart of Darkness raises issues such as the hypocrisy and violence of imperialism, racism, and moral confusion but, as with other Conrad novels, all told through complex and wholly believable characters, and in vividly described locations.
Long Walk to Freedom – Nelson Mandela : South Africa
How could Long Walk to Freedom not be included in a list of 5 classic novels or memoirs rooted firmly in Africa?
This compelling autobiography tells of the early life, education and subsequent imprisonment for 27 years – on infamous Robben island – of the man who became the father of the new South Africa. 
The book, first published in 1994, lays bare the horrors of apartheid, with Mandela regarded as a terrorist by the racist ruling white regime for leading the outlawed ANC.
What we understand throughout the memoir only makes Mandela's subsequent tolerance and forgiveness all the more remarkable. 
Click here for some classic reads to transport you to Europe.
Click here for some classic reads to transport you to the Americas.
Andrew for the TripFiction Team
And do come and join team TripFiction on Social Media:
Twitter (@TripFiction), Facebook (@TripFiction.Literarywanderlust), YouTube (TripFiction #Literarywanderlust), Instagram (@TripFiction) and Pinterest (@TripFiction)