Crime thriller set in Northumberland ("a real hanging suspense")
23rd April 2017
Gallows Drop by Mari Hannah, crime thriller set in Northumberland ("a real hanging suspense") 
I have to be up front; I am a huge Kate Daniels fan. Gallows Drop is the latest crime fiction from Mari Hannah that features Kate Daniels and her team solving a murder set in Northumberland.
Early one morning, just as it is getting light, a body is found hanging from an ancient gallows. It is actually Winter's Gibbet, near Elsdon, used for hangings, but not for a long time! It is a beautiful place to walk across wonderful countryside but holds a grisly past.
Kate is about to go on holiday with her long suffering partner, Jo, when this murder comes in. So DCI James Atkins is called in to investigate; but there is history between the two DCIs.
What I liked about this book are the stories that run alongside the murder theme and how they are interlinked and delve back into Kate's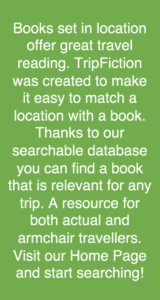 past career. Many social questions are raised together with how the police force behaves with officers that may stray from the role model they are expected to portray.
The murder has taken place following a country show which Kate had been at. She had seen the victim only hours before his death, she has to search her own recollections to help to piece together time lines and what might have happened and be involved.
Kate is a gritty, committed and thorough DCI and puts career before her own needs and life.
I think Mari Hannah's writing improves with every book of hers I read; and I've read all of them.
There is a great sense of place in this gripping novel with beautiful, but remote villages in Northumberland, long rural and meandering narrow roads snaking between places. Mari describes them well – they are places I know and walk in. This is one of the attractions for me, being able to visualise the places in reality; but it might also encourage you to visit or just experience the county through the written word via your armchair! The book also gives a taste of what is is like to live in rural Northumberland; everyone knows everyone else and always has a tale to tell!
So good is Mari Hannah's portrayal of Kate Daniels that I feel I know her and I'm looking forward to the 7th book to tell me more about her life with another murder to solve. I wonder where it will be set?
Ann for the Tripfiction Team
You can follow Mari on Twitter and buy her book here
Catch up with Team TripFiction on Social Media: Twitter (@TripFiction), Facebook (@TripFiction.Literarywanderlust), YouTube (TripFiction #Literarywanderlust), Instagram (@TripFiction) and Pinterest (@TripFiction)
For more top reads to transport you to Northumberland, just click here!