GIVEAWAY – 3 copies of The Paper Mill Girl set in RYHOPE, SUNDERLAND
9th May 2021
We are delighted to be able to offer you 3 copies of The Paper Mill Girl by Glenda Young, set in Ryhope, Sunderland.
UK ENTRY ONLY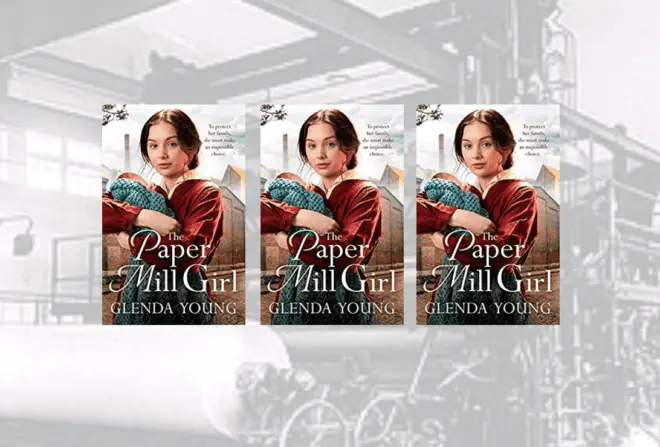 'She's just a paper mill girl.'
Seventeen-year-old Ruth Hardy works long hours at Grange Paper Works, with her younger sister Bea, and spends her free time caring for their ailing parents. Their meagre income barely covers their needs, so when Bea reveals that she is pregnant out of wedlock, Ruth knows even tougher times are ahead.
Ruth's hard work at the mill does not go unnoticed and it looks as though luck might turn when she's promoted. But when the arrival of Bea's baby girl ends in tragedy, Ruth is left with no choice but to bring up her niece herself. However, news of Ruth's plan brings a threatening menace close.
Although Ruth's friendship with the girls at the mill, and the company of charming railway man, Mick Carson, sustain her, ultimately Ruth bears the responsibility for keeping her family safe. Will she ever find happiness of her own?
HOW TO ENTER:
You must be a member of TripFiction – you can join by going to www.tripfiction.com, scrolling down to the JOIN NOW tab. We do check!
The Paper Mill Girl is set on the coast of NE England, admittedly at a rather grim time in history. But it's the seaside! So, in the comments below share with us how you hope to spend your Summer holiday. Will you be staying put in the UK this year? Or might you attempt to get away to somewhere warmer? Tell us your plans!!
Do this by midnight, 22 May 2021 and the first 3 names chosen at random will be sent a copy by the publisher.
UK ENTRY ONLY
Catch Glenda on Twitter and Facebook
Join team TripFiction on Social Media:
Twitter (@TripFiction), Facebook (@TripFiction.Literarywanderlust), YouTube (TripFiction #Literarywanderlust), Instagram (@TripFiction) and Pinterest (@TripFiction)