Join us "in" Mallorca with Marco Polo Guides and a fabulous giveaway
25th June 2017
We are chatting all things MALLORCA with the lovely people at Marco Polo Guides. This marks the launch of our joint PINTEREST BOARD "DISCOVER MALLORCA" which we would love to share with you, and invite you to share your photos of the island! There are some ace pins already! Just follow the Board and you will be invited to share your photos!!
To mark this collaboration, we are offering a goody bag for an actual or armchair trip Mallorca, some must-haves for the Isla Bonita. Our gorgeous beach bag contains a copy of the novel The Vacationers by Emma Straub set on the island (of course, where else?) and a copy of the Marco Polo Guide "Perfect Days in…. Mallorca" and an island map. Scroll down to the end to find out how to enter! Closes 8th July!
Perfect Days in … Mallorca (Marco Polo Guides)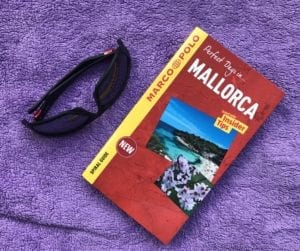 This is a neat guide full of very useful information. Mallorca's geographical situation has long made it vulnerable to foreign colonisers and it is the wealth of cultures that meld together on the island, the legacy we see and enjoy today. There is insight into Modernisme, and the guide highlights a wealth of monasteries and their histories to explore. This is an island with beaches galore, wildlife and innumerable opportunities for walking and exploration. And the food…. (a few Michelin stars along the way!)! The guidebook sets the scene from the first few hours of arriving to a more detailed itinerary over several days. Dotted with "Insider Tips", this guide is ring-bound (why don't other guidebooks produce books in this format, handy and durable) and provides a map and day itineraries. Perfect for slipping into a handbag or backpack. (TripFiction review on Amazon)
THE ARTY APPEAL OF Deià and Valldemossa from writers' perspectives…
Artists, musicians, writers and poets flock to Mallorca to seek solitude, sunshine and creative inspiration. Leading the way in 1838 was the composer-pianist Frédéric Chopin (1810–49) and his French lover, Madame Aurore Dupin, Baroness Dudevant, better known as the novelist George Sand (1804–76), and British poet-novelist-translator Robert Graves.
Chopin, Sand and Valldemossa – Chopin wrote to a friend: "I am in Palma in the shade of palm trees, cedars, aloes, orange trees, lemon trees, and pomegranates. A turquoise sky, a sea of lapis-lazuli and emerald mountains…the days are sunny… in the evenings one hears the sound of singing and guitar for hours. Enormous balconies dating back to the Arab, on which the vine leaves fall. The city, like the rest of the country is reminiscent of Africa. Briefly: a delicious life."
Sadly for Chopin and Sand, the weather would turn bitterly cold and rainy, the heating proved inadequate for Chopin's ill-health, doctors were incompetent, accommodation was hard to find, and Chopin couldn't locate a suitable piano. The ultimately disastrous rather than delicious trip was resentfully documented by Sand in her book A Winter in Majorca (1855). Nonetheless, the monastery in picturesque Valldemossa where the couple conducted their affair in the winter of 1838–39 would become a haven for artists and bohemians. These days it attracts tourists clutching Sand's book and eagerly snooping around the handsomely furnished cells that the couple shared in the former Carthusian monastery.
Robert Graves and Deià – A little further to the northeast lies the mountain village of Deià, a delightful collection of stone houses that spill down a hillside, that would lure another creative talent, the English poet and novelist Robert Graves, who settled here with his wife Beryl in 1929. Graves wrote in his book Mallorca Observed: "After a few months in Deià, I fetched my books and furniture from England, and then stayed six more years without so much as visiting the mainland. I wanted to live where town was still town; and country, country; and where the horse plough was not yet an anachronism."
The family house, which Graves built in 1932, is now an engaging museum. Like Sand, Graves wasn't always kind about Mallorca in his writings, yet these days visitors to the pretty villages seem to prefer to overlook that fact, holding onto their romantic notions of a wonderfully inspired artistic life along with their dog-eared paperbacks.
Meeting point for artists and writers, Mallorca's wonderful light and inspiring atmosphere has cast its spell over many other celebrated writers and artists. The list includes Joan Miró (1893–1983) whose work you can see in a museum on the western outskirts of Palma, and the famed novelist Agatha Christie (1890–1976) who used her stay on Mallorca in 1932 to write "Problem at Pollensa Bay and other stories".
ENTER TO WIN!
Just leave a comment below by midnight, the 8th July about Mallorca to be in with a chance winning, just tell us what you would like to see, have you been, do you have fond memories? Just chat Mallorca and the first name out of the hat on 9th July will win this fabulous package!
And of course if you are looking for books set on the wonderful island, look not further! Click on this link to find our collated titles!
Follow Marco Polo on Twitter, Facebook and please do come and follow the joint Marco Polo and TripFiction Pinterest Board "Discover Mallorca"
Do come and join team TripFiction on Social Media:
Twitter (@TripFiction), Facebook (@TripFiction.Literarywanderlust), YouTube (TripFiction #Literarywanderlust), Instagram (@TripFiction) and Pinterest (@TripFiction)