Location. Location. Vacation – Talking Location with author Sue Fortin (Amelia Island)
13th February 2017
Location. Location. Vacation: #TalkingLocationWith... author Sue Fortin, Amelia Island, Florida.
Being a writer based on the south coast of England, I've enjoyed basing my novels in and around the local area. My latest novel Sister, Sister is set around the seaside town of Brighton but the village in which my main character, Clare Tennison, lives was for the purposes of making the plot work fictitious. At one point in the book I do venture further than the south coast and take Clare off to America where I wanted to use a location I was familiar with from personal experience.
In the early part of 2016, I was lucky enough to go on a holiday with my mum and sister to visit family friends who had moved to America many years ago and had moved more recently to Amelia Island.
Amelia Island is a barrier island situated off the coast of Florida, approximately thirteen miles long by four miles wide. It has the most beautiful deep sandy beaches which are surprisingly uncrowded. It's definitely worth getting up early to catch the sunrise and making your way out early evening for the sunset.
For such a small island, it manages to have it all. Not only are there quiet and almost deserted beaches, but there are the busier ones too, where there are lots of restaurants dotted along the coastline, offering a great variety of seafood dishes. One seafood restaurant we enjoyed very much was actually in the main town, The Crab Trap. The food was delicious and plenty of it too!
The town itself is charming and has a very relaxed atmosphere. There are lots of boutique and artisan type shops to suit all pockets – one of my favourites was the t-shirt shop where you could pick and choose your style and design and they print it all up while you wait. Whilst maintaining its laid-back feel, the island does get busy when it plays hosts to different festivals throughout the year, such as, the Shrimp Festival, the Classic Car Show and the Concours d'Elegance.
At the end of the town is the dock and a small marina where you can book boat trips out along the chain of islands. The trip lasts about an hour and although the boat provided plenty of shade to protect passengers from the sun, I would recommend applying a good helping of sun cream beforehand and taking a hat; it does get hot out there on the water. The tour guides on the boat were charming and witty, both local men who were able to share their combined knowledge of the area. As we cruised up the waterway, I was lucky enough to see the wild horses on Cumberland Island and dolphins swimming alongside the boat. If you do make it to the dock and marina, which are side by side, you can also hire out motor boats and jet skis. Having said that, my sister and I, opted for a much more civilised afternoon of margaritas at Brett's Waterway Café. Highly recommended!
Amelia Island's economy is not totally tourist based. There are lots of fishing boats which sail out daily to catch shrimp and it also has a huge saw mill. Big logging trucks run through the main road of the town to the saw mill every 3 or 4 minutes, carrying forty-feet long logs. I remember sitting in the Beach Diner where we had lunch one day and being amazed at how frequently these trucks went by.
Downes House
We took a car ride out to the Old Town at the northern tip of the island which prior to the arrival of Europeans on Amelia Island, was home to Native Americans. The island has been inhabited by the English, Spanish and French at different times but it was the Spanish who established Old Town Fernandina in 1811. At the top of Old Town is the historic 'Downes House' where Pippy Longstocking was filmed.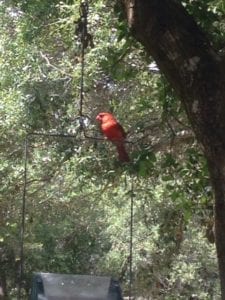 Lastly, I must mention the wildlife. Sitting out on the sun deck, we got to observe the little lizards that skittered across the decking, pausing every now and again to puff their throats out in a pink bubble, the red cardinals were particularly beautiful with their very royal looking plumes, petite hummingbirds hovering at the bird feeders, while down on the beach we came across several protected sea turtle nests and regularly saw pelicans flying across the sky. There are marshlands on the island where alligators can sometimes be found but, fortunately, we didn't have that pleasure!
I had a fabulous time even though I was only there a week. I gained so much research material, there was far too much to put in one book so I had to cherry pick the bits that would most relevant. It really is a great island if you ever get the chance to visit.
Thank you to Sue for bringing such a beautiful part of the world to life. Sounds like a good holiday destination!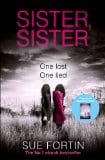 You can catch Sue on Twitter, Facebook and via her website. Sister, Sister is a no. 1 ebook bestseller and USA Today bestseller and you can buy it here.
Alice: Beautiful, kind, manipulative, liar. Clare: Intelligent, loyal, paranoid, jealous.Clare thinks Alice is a manipulative liar who is trying to steal her life. Alice thinks Clare is jealous of her long-lost return and place in their family. One of them is telling the truth. The other is a maniac.
Connect with Team TripFiction via Twitter (@tripfiction), Facebook (TripFiction), Instagram (TripFiction) and Pinterest (TripFiction)… and now YouTube