Talking Location with author Marilyn Baron – Austria
12th January 2019
TalkingLocationWith... author Marilyn Baron – Dürnstein, Austria
Austria is the main setting for her latest book The Saffron Conspiracy: A Novel
The observation that art imitates life is certainly true in the case of my latest book, The Saffron Conspiracy: A Novel, released January 7, 2019.
On a recent Danube river cruise, I took the road less traveled by and chose an excursion to a saffron farm inthe charming village of Dürnstein, one of the most popular tourist destinations in the Wachau region of Lower Austria, fifty miles west of Vienna, rather than tour a winery, for which that area of the country is known. During that visit, I met a saffron farmer, who inspired my novel.
Dürnstein, Austria, is also famous for the castle situated on a cliff face overlooking the town, where Richard the Lionheart (King Richard I of England) was held captive in 1192. You can see the castle ruins from almost everywhere in the town. Every year 1.2 million tourists, many of whom arrive on river cruises along the Danube, come to Dürnstein, which means "dry castle" in German, a town with a population of under 900, to look at the castle ruins, visit the wineries for their high-quality Rieslings and taste the apricots. It was apparently also a favorite destination for Princess Diana and Dodi Fayed. The castle and the ransom of King Richard I play a pivotal role in the plot.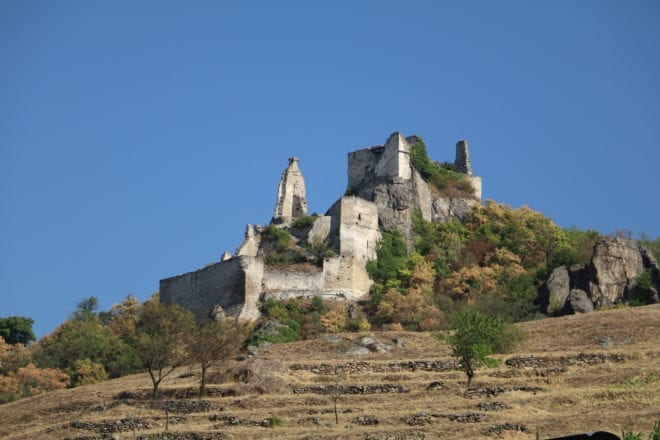 The saffron farmer, Bernhard Kaar, an ecologist and botanist, grows top quality saffron and produces gourmet saffron products following the regional cultivation tradition found in 18thcentury texts at the nearby 900-year-old Melk Abbey and its famous Baroque library, which I also visited, and which feature prominently in the novel.
Kaar's lecture about saffron and his delicious product offerings from saffron honey and saffron chocolate to the Gugelhupf, an Austrian bundt cake, made with saffron, led me to research the world's most expensive spice. Saffron arrived in 1187 with the Crusader Walther von Merkenstein, who brought the seedlings from the Orient to Austria.  In fact, I was so captivated by saffron that I begin each chapter with a fascinating fact about what is often referred to as the "Red Gold."
Kaar's company sits in front of an old railway station, as does the saffron farm of my fictional hero, Botanist Andreas Bauer. And the saffron farmer did meet his wife at the Bahnhof St. Valentin, which is the site of a chance meeting between my hero and heroine—Savannah Sutherland, Charleston, South Carolina, heiress and niece of a powerful Dürnstein vintner, meet in the opening chapter. Of course, love blooms. The rest of the story, a contemporary romance with suspense, mystery and historical elements, exposes dark family secrets and an explosive discovery of a centuries-old conspiracy about the King's ransom that could turn deadly and threatens to derail their romance, is a product of my imagination.
In the novel, the fictional Glenn Castle Inn, in Scotland, where Savannah spends her summers, is inspired by the real-life Cameron House on Loch Lomond, a popular wedding site and one of the most beautiful properties I've ever visited. If you're ever in Scotland, you should consider staying there. And, as in many of my romantic thrillers, there's a World War II twist to the story. I was also inspired by other Danube and Rhine riverboat excursions I took to a local winery, a vinegar estate and stops in Strasbourg, France, and Amsterdam.
Who knew that saffron was grown in Austria? Thank you to Marilyn for sharing her trip and a peak at the history of the area! Do connect with her via her website and follow her on Twitter
Do come and join team TripFiction on Social Media:
Twitter (@TripFiction), Facebook (@TripFiction.Literarywanderlust), YouTube (TripFiction #Literarywanderlust), Instagram (@TripFiction) and Pinterest (@TripFiction)