Mystery thriller set in Rome – both ancient and modern
25th March 2020
The Villa of Mysteries by David Hewson, mystery thriller set in Rome – both ancient and modern.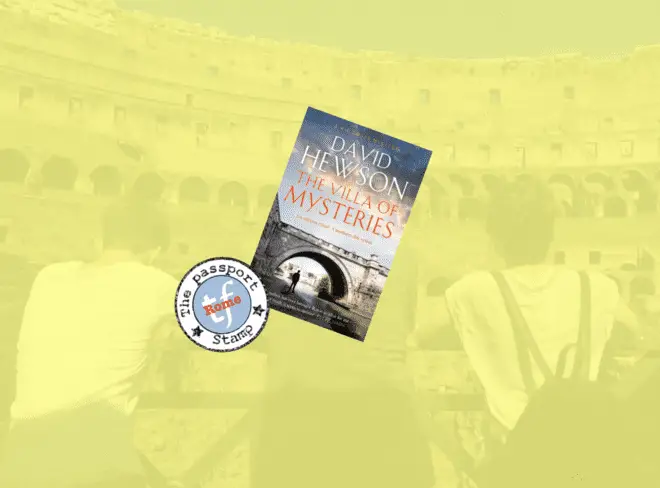 The first mystery is about the publication date of the book itself! I was recently sent a copy to review by the publisher… the publication date inside is given as 2003. If you look on Amazon, then the publication date is given as 2011… yet I imagine it was intended as a new title for me to read.
It absolutely puts you in the right investigative frame of mind for the story, though. And it is a good one. A body of a young lady is found in a peat bog outside Rome. The body is well preserved in the peat and it looks as though she had been killed centuries earlier in a ritual murder linked to an ancient sex cult. But the forensic investigation soon finds that she was murdered only 15 years before the discovery – and that she was the daughter of a prominent US mafia boss living in Rome. What had happened? Detective Nic Costa, his partner Gianni Peroni, and forensic scientist Teresa Lupo, investigate.
Their investigations take them into the murky world of mafia family activities. They discover there was bad blood between the father of the murdered young lady and a local Italian mafia boss and his son. But would the Italian mafia have decided to risk a war with their American partners by killing her. And / or was there, indeed, some link back to a sex cult in ancient Rome? Were current persons somehow re-enacting the past?
The story is tense and exciting, and moves to a thrilling climax in a cave complex below Rome.
No one writes about Rome quite like David Hewson. He brings the city alive – absolutely excellent for TripFiction aficionados.
A really good read.
Tony for the TripFiction team
Do catch David's wonderfully informative and witty chat on Twitter
Join Team TripFiction on Social Media:
Twitter (@TripFiction), Facebook (@TripFiction.Literarywanderlust), YouTube (TripFiction #Literarywanderlust), Instagram (@TripFiction) and Pinterest (@TripFiction)
Fancy more titles to take you to Rome? Just access the TripFiction database!