Novel set in the Cyclades (a veritable Greek Tragedy)
6th April 2018
Aphrodite's Tears by Hannah Fiedling, novel set in the Cyclades.
This book has been the #TFBookClub read March/April 2018 and you can check out our readers' thoughts on this link.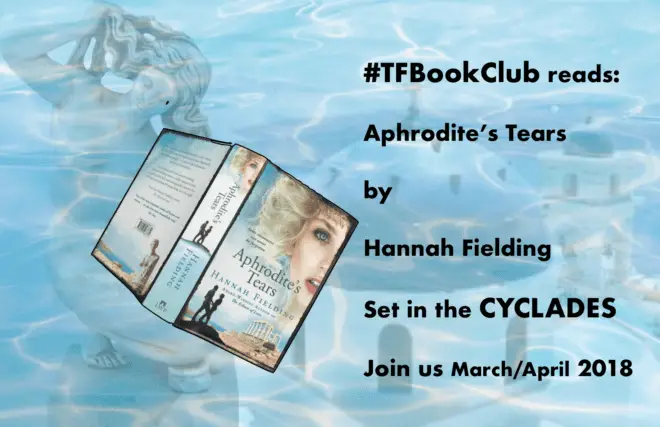 I guess when this book first popped through the door I was struck by how sumptuous the production is – indeed, a sumptuous number of pages, divided into just 13 Chapters! It struck me that we are no longer used to reading the big tomes of Barbara Taylor Bradford's epics or Gone With the Wind and so it has been interesting to see what the readers of the March/April 2018 #TFBookClub thought.
At the heart of the book is Oriel Anderson, who is an archaeologist employed by Kyrios Damian Lekkas, who rules the island of Helios (an island inspired by Santorini – check out Hannah's piece she wrote for us). He is dark, brooding and despite being eaten half alive by a shark a while ago (sporting plenty of manly scar tissue), he holds sway over the females with whom he has contact. The history of the Lekkas dynasty cannot but remind readers of the misfortunes of the Kennedys in the USA or the Grimaldis in Monte Carlo – being rich, with breeding, does not shield you from traumatic events and almost seems to act as a magnet .
Oriel is invited by Damian to stay at his family home 'Heliades' rather than move into the archaeological digs, where all the men hang out. Archaeology, it would seem, is after all a career chosen largely by men (but Mary Beard might have something to say about that). Such a wisp of a young woman, blond and green-eyed, cannot be thrown to the male lions and needs to be under Damian's protective auspices – she is after all "an English rose amongst the dark Ariadnes and Iphigenias on Helios". You can feel the passion and longing budding very early on the book. Oriel to date has kept herself chaste (bar one slip up) and has not really looked at another man since her first – and only – boyfriend left her for her best friend.
The archaeological team is exploring what turns out to be a 3rd Century BC argosy, settled in the harbour bottom. They are on Helios, a "savagely beautiful island that beckoned with its sense of mystery and antiquity" and it provides a superb setting for a nascent relationship of passion and yearning…. but how will it all end?
Oriel not only has to manage Damian's advances and also her own beating heart (which will not "be still"), but also Helena, his cousin, who lives at Heliades too, and is hell bent on keeping Damian single (he was married once but his wife was murdered). Add Yolanda into the heady mix, Damian's childhood sweetheart and now famous Greek chanteuse, and it is a wonder that Oriel stays around. Other female archaeologists before her have high-tailed it prematurely back to their home countries.
The writing is excellent and it is clear why Hannah Fielding holds sway, with her intelligent and informed storytelling. She is clearly a Graecophile and at the end, in the author QA, she talks about her love of Greece and its history. I learned an enormous amount about Greek mythology and life – whether about Persephone and the pomegranates, the 64 varieties of olives (some tiny, some as large as walnuts), and that stellions (lizards) also have their very own mythological history. Sponge fishing, too, took the lives of many of the men on the Greek islands, a dangerous occupation with months away from home over the summer months…The author pops in Greek phrases that will stick and I am sure will be useful for any upcoming Greek holiday, agápi mou! Her breathless and intelligent observations of the environment, interiors, mythology and dress add to the voluptuous narrative.
There are private planes, yachts (even a rescue on horseback) aplenty and Oriel has a soft top VW beetle at her disposal. It is so far removed from the archaeological experience (I know, I have worked on digs) that it really is a preposterous story, which isn't really about archaeology at all. Yes, at times it feels like surround-a-sound Mills and Boon.
This book is like having a 7 course meal, at times there is just too much pleasure which can come in tandem with indigestion. At about the halfway mark I almost gave up on the book, I stalled at a description of sexual awakening, which could vie for the Literary Review's Bad Sex in Fiction Award (yes, that is really a thing!) "He plundered her in a torrent of erotic demand". I stopped reading at that point but picked up the book and motored to the end quite happily.
This is a good read, though as the readers in the #TFBookClub observed, it is too long. There was praise for the storytelling and the setting, with its focus on culture, food and details of the mythological figures of Greek history. For most of our readers Oriel and Damian's "will they/won't they" was rather over egged and became increasingly tiresome.
If you are lover of romance fiction and you would actively choose to read a weighty tome of 555 pages. If you are not a hardcore romance disciple, it probably will not appeal.
Tina for the TripFiction Team
Catch Hannah on Twitter and on Facebook
Do come and join team TripFiction on Social Media:
Twitter (@TripFiction), Facebook (@TripFiction.Literarywanderlust), YouTube (TripFiction #Literarywanderlust), Instagram (@TripFiction) and Pinterest (@TripFiction)
For more books set in Santorini, just access the TripFiction database.