Novel set in Cornwall, overlooking Porthpean
25th June 2019
The Path to the Sea by Liz Fenwick, novel set in Cornwall, overlooking Porthpean.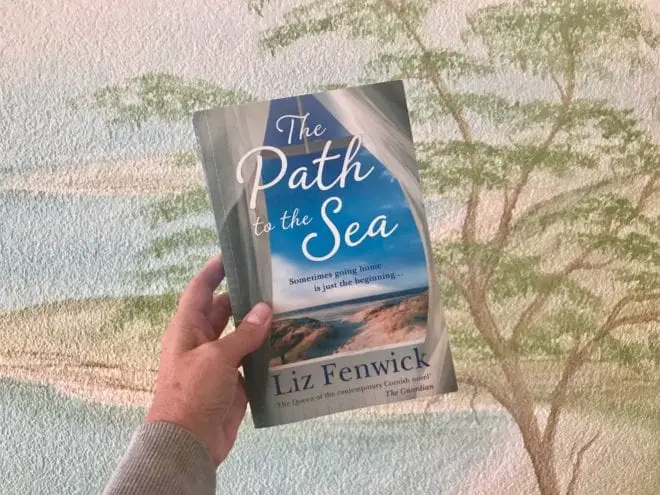 Three generations of women in the Trewin family have gathered together at the crumbling and ramshackle pile that is Boskenna, overlooking Porthpean and not far from St Austell, with views across to the tower on Gribben Head (built 1832 to distinguish Gribben Head from Dodman Point). It is set in mature gardens full of flowering blooms, it has stables and outhouses and the sea is only a short distance away…
Grandmother Joan is dying of cancer and she is in palliative care at home. She is only fractionally available to those around her as she drifts in and out of consciousness. Diana, her daughter, is back from her war reporting and has been summoned to the bedside, together with her daughter and granddaughter Lottie. Lottie, as a child, was cared for by Joan and Grandmother and Granddaughter have a very strong bond. Diana, with her peremptory manner and journalist's search for the truth, slices into any conciliatory mood in these last remaining days. She knows that truth has been withheld from her and she is determined to root out the circumstances of her father's death. Her anger in the book is palpable and belies a hurt and lost inner child who felt pushed out to Boarding School when her father died. She was only 8 years old. She has snapshot memories of the horror of his death and her adult, investigative nose tells her there is quite a story to uncover…..
Joan and Allan (husband and father to Diana) spent a great deal of time in Moscow and Christmas and Summer breaks at Boskenna. Remember, this was the 1960s, the height of the Cold War and of course any Westerner based in Russia had perhaps another, nefarious agenda. And certainly Joan – glamorous, multilingually gifted Joan – had her secrets.
The chapters in the book rotate between the three women, variously set in 1962 and 2018. At first it took me quite some concentration to sort the different characters and the time periods and get them all straight. However once I got into the rhythm I found this to be a poignant and well observed novel about family dynamics and how death triggers all kinds of behaviours, resentments and an ultimate quest for closure. The various strands come together well to form a cohesive and very readable novel.
It is a particularly good read for anyone who likes books set in Cornwall. The Guardian calls Liz Fenwick "The Queen of the contemporary Cornish novel" and a well deserved epithet that is too!
Porthpean House is the inspiration for Boskenna.
Tina for the TripFiction Team
Follow Liz on Twitter, Facebook and connect via her website. You can buy her book from your chosen bookseller via the TripFiction website
Come and join team TripFiction on Social Media:
Twitter (@TripFiction), Facebook (@TripFiction.Literarywanderlust), YouTube (TripFiction #Literarywanderlust), Instagram (@TripFiction) and Pinterest (@TripFiction)
Fancy more books set in CORNWALL? Look no further, just click HERE