Novel set in Gangtok (and top picks for novels set in India)
5th February 2015
Land Where I Flee by Prajwal Parajuly, novel set in Gangtok, India.
This is a debut novel from Prajwal Parajuly which brings several strands to the reader's attention. It is set in Gangtok, a Nepali-speaking area in the Himalaya of India – people originally ousted from Bhutan. The author's passion for this area of the country and its history is truly palpable.
Grandmother Chitralekha – Amaa to her grandchildren –  is about to celebrate her landmark 84th birthday, the Chaurasi, and she awaits the arrival of 3 grandchildren. The fourth grandchild is not invited. This is very much a story about belonging, about resettlement and dislocation, and what it is like to live far away from indigenous and familiar country and culture. For granddaughter Bhagwati, caste issues have literally cast her out – she married her husband Ram in haste, who is a Damaai, an untouchable. In Boulder, Colorado where they have settled after several years in a refugee camp, they hardly give it a second thought, but it will be a huge factor when she re-enters her Grandmother's house; Agastaya is a doctor in New York and he is with Nicky, male, an unacceptable liaison in his Grandmother's small town; Manasa, foul-tempered and cutting, has despatched her husband and paraplegic father-in-law to a different location, whilst she endures the reunion. The interactions and dialogue amongst the characters are vivid, and one can almost hear them speaking to each other in vociferous and raucous chatter.
Prasanti, (originally Prasant) the eunuch who tends Grandmother, is always present and always good for an invidious jibe or some histrionics. To all intents and purposes, she is treated as the true granddaughter.
This is a book full of Indian experience, colour and observation, it is full of vernacular, Manas sharply correcting Nicky that it is not Diwali for the Nepali speaking people, but Tihaar. There are lots of colloquial words punctuating the prose with the intention, I believe, to make the story feel more authentic. But it has the opposite effect, it starts to alienate because there is no glossary to assist. This, no doubt, serves to mirror the experience of dislocation that perhaps Bhagwati and Ram experience in Boulder as refugees.
Parajuly has is an original voice but in this novel he has struggled to keep the story cohesive. Is this a story about a family reunion, or is the story of Prasanti the overriding focus? Are the politics of the region – and the region itself –  what truly motivate the author? The focus is loose, the squabbling amongst the family becomes enervating and depressing at times, and the opportunity is lost to really aid understanding of the history of this small part of India; and  yet.. it is a very interesting novel that insightfully transports the reader to a little known area of India.
And what an eye-catching cover! Really drew our eye to it, colour, exoticism and travel captured in one photo!
Tina for the TripFiction Team
To complement our review of Land Where I Flee, we have asked Aditi, a regular contributor to TripFiction and based in Kolkata, to share her current favourite reads that will transport the reader to India:
Under the Jewelled Sky by Alison McQueen
London 1957. In a bid to erase her past and build the family she yearns for, Sophie Schofield accepts a wedding proposal from ambitious British diplomat, Lucien Grainger. When he is posted to New Delhi, into the glittering circle of ex-pat high society, old wounds begin to break open as she is confronted with the memory of her first, forbidden love and its devastating consequences.
The suffocating conformity of diplomatic life soon closes in on her. This is not the India she fell in love with ten years before when her father was a maharaja's physician, the India of tigers and scorpions and palaces afloat on shimmering lakes; the India that ripped out her heart as Partition tore the country in two, separating her from her one true love. The past haunts her still, the guilt of her actions, the destruction it wreaked upon her fragile parents, and the boy with the tourmaline eyes.
Sophie had never meant to come back, yet the moment she stepped onto India's burning soil as a newlywed wife, she realised her return was inevitable. And so begins the unravelling of an ill-fated marriage, setting in motion a devastating chain of events that will bring her face to face with a past she tried so desperately to forget, and a future she must fight for.
A story of love, loss of innocence, and the aftermath of a terrible decision no one knew how to avoid
The Case of the Love Commandos by Tarquin Hall
The wonderful fourth outing for Delhi detective Vish Puri.
When Ram and Tulsi fall in love, the young woman's parents are dead set against the union. She's from a high-caste family; he's an Untouchable, from the lowest strata of Indian society. Young Tulsi's father locks her up and promises to hunt down the "loverboy dog". Fortunately, India's Love Commandos, a group of volunteers dedicated to helping mixed-caste couples, come to the rescue. But just after they liberate Tulsi, Ram is mysteriously snatched from his hiding place.
The task of finding him falls to India's "Most Private Investigator". Unfortunately, Vish Puri is not having a good month. He's failed to recover a cache of stolen jewels. His wallet has been stolen and he's having to rely on his infuriating Mummy-ji to get it back. And to top it all, his arch rival, suave investigator Hari Kumar, is also trying to locate Ram. To reunite the star-crossed lovers, Puri and his team of operatives must infiltrate Ram's village and navigate the caste politics shaped by millennia-old prejudices.
The Sea of Innocence by Kishwar Desai
Goa, south India. A beautiful holiday hideaway where hippies and backpackers while away the hours. But beneath the clear blue skies lies a dirty secret… Simran Singh is desperate for a break and some time away from her busy job as a social worker-come-crime investigator. And so the unspoilt idyll of Goa seems just the place – white beaches, blue seas and no crime. But when a disturbing video appears on her phone, featuring a young girl being attacked by a group of men, she realises that a darkness festers at the heart of this supposed paradise. And when she discovers out that the girl is Liza Kay, a British teenager who has gone missing, she knows she must act in order to save her. But first Simran must break through the web of lies and dark connections that flourish on these beaches. Everyone, it seems, knows what has happened to the girl but no one is prepared to say. And when more videos appear, and Simran herself is targeted in order to keep her quiet, the paradise soon becomes a living nightmare.
The Lives of Others by Neel Mukherjee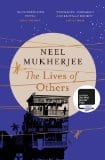 The aging patriarch and matriarch of the Ghosh family preside over their large household, made up of their five adult children and their respective children, unaware that beneath the barely ruffled surface of their lives the sands are shifting. Each set of family members occupies a floor of the home, in accordance to their standing within the family. Poisonous rivalries between sisters-in-law, destructive secrets, and the implosion of the family business threaten to unravel bonds of kinship as social unrest brews in greater Indian society. This is a moment of turbulence, of inevitable and unstoppable change: the chasm between the generations, and between those who have and those who have not, has never been wider. The eldest grandchild, Supratik, compelled by his idealism, becomes dangerously involved in extremist political activism an action that further catalyzes the decay of the Ghosh home.
Ambitious, rich, and compassionate, The Lives of Others anatomizes the soul of a nation as it unfolds a family history, at the same time as it questions the nature of political action and the limits of empathy. It is a novel of unflinching power and emotional force."
Thank you to Aditi and you can follow her on Twitter, Instagram and check out her great book blog, BookStopCorner.
And come and say hello to Team TripFiction on social media: Twitter, Facebook and Pinterest and when we have some interesting photos we can sometimes be found over on Instagram too.