Novel set in the Basque region of Spain and in Madrid
19th October 2021
The Exile by Mark Oldfield, novel set in the Basque region of Spain and in Madrid.
The Exile is the second in a trilogy concerned with the corruption and atrocities of the Franco era which bled into the ensuing decades. The segue into this volume from whatever occurred in The Sentinel is deft and seamless, the opening scene satisfyingly descriptive of a rain sodden San Sebastián of 1954. The streets are grim and poorly lit as Comandante Leo Gúzman sets off to kill a separatist cell. The mission complete, he must then despatch Lobo, the wolf, a key separatist hiding in the mountains. Hopefully then he can return to Madrid.
The legacy of the bitter civil war, the uncompromising ruthlessness and barbarity of the colonels in charge under Franco, the corruption of those beneath them, are portrayed through a repellent cast of characters, including if not especially antihero Gúzman himself. The separatist cause is a given and the very mountains themselves seem to breathe that need for liberation.
Jump to 2010 and feisty forensic investigator Ana Maria Galindez is sent to the Basque country to photograph an historical massacre in a cellar. Gúzman is the prime suspect. Galindez is then seconded by a politician to work on the uncovering the truth about the stolen children. The practice of stealing new-born babies and selling them up for adoption continued in Spain into the 1990s, with the help of private hospitals and the Catholic Church. An estimated 300,000 babies were stolen. Spain made a Pact of Forgetting after Franco died. But atrocities got buried and they need to be faced. Oldfield handles the theme well, even as it is ultimately the lesser of the two plots in The Exile.
The narrative in both time periods is unflinching. Brutal, graphic, fast-paced, Oldfield majors in rendering the seedy underbelly of the secret police and the Guardia Civil, the Catholic church, organised crime and politicians. A strong female lead in 2010, juxtaposed with the objectification and brutalisation of women through Gúzman's eyes in 1954, makes for a powerful read. The author handles the contrast with ease. Both protagonists are vividly crafted. I appreciated the emerging nuances in the Gúzman character.
Oldfield conjures a strong sense of place in the Basque country chapters which dominate the narrative both in terms of their complexity and through the force of the imagery, the power of this setting. The Exile is a good book to escape into. It's immersive and easy to follow with plenty of twists and turns and a neat ending priming the reader for the next installment. The pages really do turn themselves. I would recommend devouring the entire trilogy.
Guest Review by Isobel Blackthorn
Isobel is a prolific Australian novelist. She writes both contemporary/literary, thrillers and dark fiction. Follow her on Facebook, Twitter and via her website.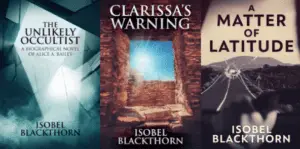 Join team TripFiction on Social Media:
Twitter (@TripFiction), Facebook (@TripFiction.Literarywanderlust), YouTube (TripFiction #Literarywanderlust), Instagram (@TripFiction) and Pinterest (@TripFiction)