Novel set in Vienna of the later 1930s ("insight is the midwife of recovery")
16th April 2017
The Tobacconist by Robert Seethaler, novel set in Vienna of the later 1930s.
My eye was drawn to this book when I saw a lovely display in my local Waterstone's bookshop, Fiction Book of the Month, April 2017.
It is a gentle story set at not so gentle times. Franz Huchel is a 17 year old young man, who leaves all he has known in the Salzkammergut, to work in the big city, Vienna. There, his mother has arranged an apprenticeship with an old friend Otto Trsynek who runs a tobacconist shop on the Währingerstrasse (that's the 9th District in the city). Franz has a tiny room at the back of the shop and together they organise their day selling newspapers, stationery and tobacco products.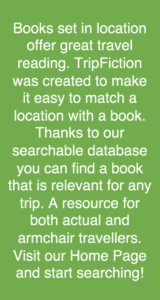 One of the customers is a certain well known Professor Freud, psychoanalyst and Jew, and somehow Franz is drawn to him as a kind of father figure. They spend brief spells together, just conversing and warily observing the insidious creep of National Socialism, burgeoning since the Anschluss of Austria in April 1938. Everything until that point seemed so safe, and suddenly it's not… life as they know it is being turned on its head.Theirs is a strange relationship but even being associated with the great man, Franz starts to explore life in a different way, both unconsciously and consciously.
Franz happens upon Anezka from Bohemia, who accelerates his development into true manhood. But she is fickle and not apparently the woman for him. Lovelorn as he is, he begins to record his dreams in true Freudian fashion. With no real in-depth analysis available to him, he posts snippets of his dreams on the tobacconist's window for others to share. He gains some insight, and with a little understanding he can start on the process of recovering from his broken heart – and also find his place in a society that is disintegrating before his very eyes. Little insignificant things happen, gaining momentum to up-end the everyday pattern of daily routine – as the author underlines: "..it's often precisely the nondescript that hides something truly scandalous."
Set against the darkening days of the Nazi occupation, this book – essentially quite odd in its concept – nevertheless had me riveted. It is the story of one individual set against a terrible time and place. It brings to life the Vienna of the period that enables understanding of the city as we see it today.
What makes this story so good is the quality of writing, the little pert observations as each day passes, the richness of description and the smooth storytelling. And of course not forgetting the gift that the translator, Charlotte Collins, brings to the book, whose lyrical translation makes it a seamless read.
Yes, I loved this book and yes, it will not appeal to everyone. If you liked The Gustav Sonata by Rose Tremain (set in Switzerland), then this will in all likelihood by a perfect choice for you.
I do have a small issue with the cover. It is beautifully conceived, but to me – using such brown earth colours (when many of the buildings in Vienna are more pastel and ochre) – led me to think that this was a novel set in Tuscany or Umbria, rather than Vienna. A small gripe, however…
Tina for the TripFiction Team
You can follow the author on Twitter and via his website. Follow translator Charlotte Collins on Twitter.
Catch up with Team TripFiction on Social Media:
Twitter (@TripFiction), Facebook (@TripFiction.Literarywanderlust), YouTube (TripFiction #Literarywanderlust), Instagram (@TripFiction) and Pinterest (@TripFiction)
For more books to transport you to VIENNA, just click here