On Literary Location in Birmingham
2nd February 2019
TripFiction is indebted to Katherine at Oldcastle Books and No Exit Press for sending us an advance copy of The Conviction of Cora Burns by debut author Carolyn Kirby.
'Set in the 1880s in Birmingham, this is an atmospheric and gripping novel about a determined young woman who strives to overcome the hardship and violence that plagues her and the dark, fractured memories which haunt her. With a gritty setting, and a fantastic historical and social context, The Conviction of Cora Burns explores themes of motherhood, mental illness, memories and the concept of nature versus nurture.'
TripFiction's Andrew is currently reading the book, and braved a cold January day to follow in the footsteps of author and character #OnLiteraryLocation in Birmingham.
October 1885. Cora, born in a gaol and raised in a workhouse, has always struggled to control the violence inside her. Haunted by memories of a terrible crime, she has been offered a new life working as a servant in the house of scientist Thomas Jerwood, in the  suburb of Spark Hill. some 3 miles distant. But will she take up the position, joining a staff of four indoor servants and on terms of just £8 per annum, 'half what she'd got as a laundress.'
On leaving prison, still just 20 years old, Cora heads towards town: 'piles of sawn wood chequered the narrow wharf below the prison wall. As she careered past the lock and on to the towing path she heard herself break into a laugh as loud and mirthless as a lunatic's. Her lungs heaved and her old boots pinched in new places. Cora stopped, panting, to let a towering barge-horse go by and realised how unused to movement she's become.'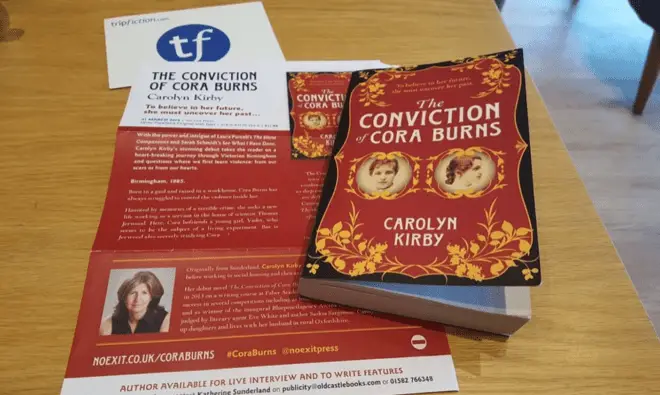 These days, the city's old canal network has been beautifully restored. Find your way to Brindley Place, named after James Brindley, whose ideas helped to drive the industrial revolution and changed the face of Birmingham. Once full of life with boats trading everything from glass to coal – and even chocolate crumb – now it is thriving again, lined with bars and restaurants, or locals making the most of a traffic-free route to work.
'It was time to make haste, however sickly she felt, towards the wide smoky blur of the town. On the way, she couldn't avoid passing alongside the workhouse but she'd keep her eyes fixed on the tottering cranes at the goods yard and a distant gleam of roof-glass from New Street Station.'
Welcome to Birmingham in the Victorian era of industrial revolution, offering new wealth for some but grinding poverty and abuse for most. Of course New Street remains the city's central station, roof-glass still gleaming, albeit with a more contemporary design.
'By the time Cora got to Corporation Street the lights were coming on. An eggy whiff followed the lamp-lighter as he sparked each post into a fizzing yellow glow. Above the traffic, windows began to gleam, one on top of another, five sandstone storeys high. Shopfront mirrors glinted on to packed rows of tobacco pipes and toffee tins.'
I followed Cora to Corporation Street, still in the beating heart of Birmingham, and then to Bordesley Street, a little further away. 'His gaze slid over her, a smirk on his lips. "You could try Mrs Small's on Bordesley Street. A common lodging-house. She usually has something for young laundresses.' But Cora soon realises that she has been sent to a bawdy house, offering 'three shillings an hour, arrangements made inside the bedroom is between you and your visitor.'
Cora reluctantly takes up the option to work at Mr. Jerwood's house, and heads away from the city centre. But what is really going on at The Larches…and what is happening to young Violet behind closed doors?
I am thoroughly enjoying The Conviction of Cora Burns. The author whisks you back to Victorian Birmingham with the richness of language and the research behind the intriguing plot.
'The library air oozed mustiness from old books lining the shelves along the back wall. Tranklements of all sorts crammed the cabinets.'
And how enriching to turn the pages at the same time as strolling the streets of Birmingham. The city is not renowned for its beauty but it is to be commended for trying to protect some of its Victorian and industrial heritage. Grab a copy of the City Heritage Trail from the Birmingham Civic Society and check back here soon for my review of the book to see what happens to Cora….
The paperback version of The Conviction of Cora Burns will be published on 21 March, 2019. Please click on the link at the bottom of this TripFiction page to get hold of the book through Amazon or your favourite bookseller.
TripFiction's Andrew #OnLiteraryLocation in Birmingham
Follow author Carolyn Kirby on Twitter (@novelcarolyn), and on Facebook.
And come and join team TripFiction on Social Media:
Twitter (@TripFiction), Facebook (@TripFiction.Literarywanderlust), YouTube (TripFiction #Literarywanderlust), Instagram (@TripFiction) and Pinterest (@TripFiction)