Psychological thriller set mainly in the NEW FOREST
8th July 2020
The Last Wife by Karen Hamilton, psychological thriller set mainly in the New Forest.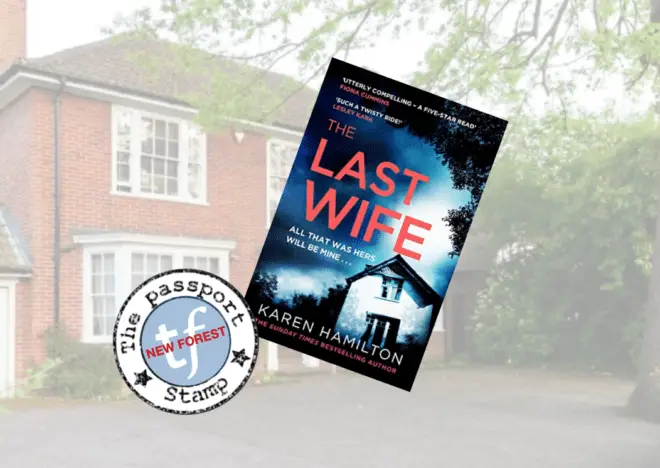 Stuart and Nina are happily married with two children. Nina however dies after developing cancer and in the run up to her death, she entrusts the care and well-being of her little family to her best friend from childhood, Marie. Marie takes on the role with gusto and even moves into their house very shortly after Nina's death. She has been living with her boyfriend Ben, just next door, and she was determined to get pregnant. It never happened and yet she so wants to be a mother and so at some level this arrangement suits her very well.
Stuart has not heeded the warnings from several quarters, that Maris has suffocated and controlled Nina for much of her life and that she has an unreliable personality. Her psychopathic nature is quite evident but seemingly not to him.
She is indeed a nurturer to him and the little ones, yet she is a woman to watch. She has a shared history on Ibiza with Nina, and with her own ex-boyfriend Charlie and mutual friend Camilla. Charlie disappeared on the island and it seems Camilla and he were playing around. It's all rather murky. Then Marie discovers that Nina has been hiding a rather big secret. She is appalled because Nina, she believes, told her everything…
What this author does well is create rather unlikeable but determined female characters who have sociopathic tendencies. Her first novel, The Perfect Girlfriend, saw Juliette insinuating herself into the life of Nate, her former boyfriend. The women are not particularly likeable but you somehow have to admire their tenacity in trying to achieve their end goals. Sometimes at any cost!
A gripping read.
Check out the author's #TalkingLocationWith.. feature here, where she expands on the settings for the novel.
X
Buy from Amazon or your favourite bookseller
Catch Karen on Twitter and Facebook
Join team TripFiction on Social Media:
Twitter (@TripFiction), Facebook (@TripFiction.Literarywanderlust), YouTube (TripFiction #Literarywanderlust), Instagram (@TripFiction) and Pinterest (@TripFiction)