Romance novel set on Sifnos, Greece (Aggelos saves the day!)
19th May 2017
The Amulet by Effrosyni Moschoudi, romance novel set on Sifnos, Greece – plus a #TalkingLocationWith piece by the author.
"…the most difficult people are the ones who suffer the most"
Sifnos is a charming island in the Cyclades, fringed by beautiful white beaches. Why not set a bit of romance and intrigue in such beautiful surroundings?
Katie Pavlides has had enough of her haranguing boss Roula, in a pipe factory on mainland Greece. Frustrated and thwarted she is at her wit's end. She happens to bump into a gypsy woman (or did the gypsy woman bump into her..?), to whom she generously gives her cardigan. Much to her surprise the cardigan is returned. The gypsy's name is Esmera and she presses a gorgeous amulet into Katie's palm, which she wears with absolute delight.
Finding the courage to leave her draining job, she is taken on by Mrs Matina and her husband Spyros, who need help running their guesthouse. Sifnos is Katie's dream destination and she is beyond happy to have the opportunity to be ensconced on this beautiful island. But Mrs Matina is clearly not a happy woman. No matter, Katie goes about her work welcoming guests and being a delight.
Her eye is soon caught by the handsome Aggelos, who has mysteriously moved into Room 27, yet no-one seems to have checked him in. He is on hand when crises erupt, for example, he has about his person a piece of cheese to lure a pet rodent back to its cage; he rescues a lady in distress in the water; and even guides Spyros back to land from a rather dangerous fishing trip. He is like a real guardian angel! And one Greek word you will learn when reading this sweet novel is that Aggelos is Greek for angel.
Katie soon falls for his handsome ways, and meets his friends Babis and Elise, but there are clear warnings that Aggelos is on a secret mission and will not be around for ever. His "army" duties may well require him to disappear at the drop of a hat! Can Katie keep her guardian angel?
This is a light and very readable book that will transport you this tiny part of Greece. You could search out the windmill described at the end of book perhaps, or take a trip to Asimi, join the locals for a real party, and sample the delicious bougatsa sprinkled with icing sugar washed down with a glass of tsipouro. And if you visit the island I guarantee you will be looking up at the clouds to see if you can spot your very own guardian angel. Enjoy, it's a heart-warming and feel good read, with lots of angels and love! "There's no such thing as magic or miracles. These things only happen when you have faith"
Tina for the TripFiction Team
Over to Effrosyni, who shares her love of SIFNOS, the hidden gem of the Aegean!
Sifnos is a well-kept secret among savvy island hoppers in Greece. And even though it is not one of the Greek island destinations people rave about online, even though you may have never heard of it, it is certainly a place you should visit at least once.
As you arrive at the island's tiny port of Kamares, the first thing you notice from the ferry is how peaceful it is. You would expect a bustling place where a large ship docks but what you find is the exact opposite. The seafront is lined with shops and quaint tavernas for a rather short distance and, beyond it, a beautiful sandy beach stretches out as far as the rocks at the end of the bay. Quaint hotel buildings greet you back, white, like unblemished birds, nestled on the side of the hill and, above it all, stands a tall mountain with a church on its top. The sight is idyllic and makes you feel small, which is why I can never arrive at Sifnos and escape that familiar sense of awe that always catches in my throat.
Staying in Kamares is ideal as you have the beach at your disposal, as well as all the shops and establishments you'll need during your stay. The nightlife is nothing extravagant, but adequate for having fun nonetheless.
From Kamares, hire a car or scooter, or take a bus or taxi, and explore. I recommend the capital, Apollonia, for a wander around its beautiful lanes and shops.
A visit to the alluring sandy beach of Platis Yalos is a must. Make sure to stop on the way at the beautiful, whitewashed monastery of Panayia Chrysopigi. Legend has it that when the Saracen pirates attempted to invade it, the Virgin Mary made a massive chunk of rock under their feet break away and plummet into the sea, taking them down with it.
A word of warning: Wandering around here in beachwear/shorts is fine, but if you plan to go indoors to see the miraculous, ancient icon of the Virgin Mary, have a long skirt handy (for women) or long trousers (for men) as well as a top that covers your shoulders, otherwise you won't be allowed entry. This is a strict rule observed in monasteries all over Greece, sometimes in churches too.
You will be more than satisfied with your swim in Platis Yalos. This beach of sparkling waters and fine sand offers a good selection of tavernas too. Regarding the food: the meals you will sample in Sifnos will be exquisite no matter where you go. This is no surprise seeing that the very first famous Greek chef came from this island. His name was Tselemendes and his book, the first comprehensive cookery book that was ever published in Greece, became such a hit when it came out in the 1930s that, to this day, the word 'tselemendes' remains a synonym in Greek for 'cookery book'.
Make sure to visit Kastro in the late afternoon and stay till the sunset as this can be a stunning spectacle from here. Kastro is a fortified cluster of ancient houses that takes you back in time and enchants you with every step you take. It was built high above the sea with walls and archways so the locals could fight off the Saracen pirates back in the day (9th century A.D.)
The view from up here is stunning, especially if you look down to the rocks where the whitewashed Church of The Seven Martyrs (Epta Martyron) stands – with its sky blue dome it is an enchanting sight to behold. You can visit the church by taking the windy stairway from Kastro all the way down.
At a close distance From Kastro, there is the village of Artemonas. Drive uphill to the old windmill (O Mylos tou Spitha). The view from up here is just as spectacular.
Other beautiful beaches worth visiting in Sifnos beside Platis Yalos are Faros and Heronissos, as well as the one at Kastro.
The art of pottery is a traditional profession in Sifnos. Make sure to visit at least one of many pottery workshops around the island to sample the beautiful merchandise on offer. Pick a tiny vase with a lid as a souvenir, or even a proper cooking pot, if only for making the fabulous chickpea soup the Sifnos way (Revithada). This is a delicacy the people of Sifnos make in wood ovens, cooking the meal overnight in a ceramic pot that's been sealed with dough around its lid. Nowadays, urban housewives all over Greece make it in their ovens at low temperature, and it takes a few hours of baking as to get the consistency right. To learn more, click here.
Other than pottery, there are many other types of local produce you can sample or take away with you, such as: local cheeses, sweets & pastries, organic thyme honey, capers, wine, herbs, handmade jewellery, and hand-woven blankets and rugs that are made on traditional looms.
Sifnos is a small island, which means a stay of 3-4 days is enough to adequately explore all the places of interest mentioned here. Wander around, as far and wide as you wish, and you will be rewarded with enchanting beauty in every corner. For one, everywhere you look, the hedges glint under the sunlight thanks to a stone from the local quarries used heavily for building purposes here. It is this endearing sight of the sparkling stone that has caused me to pick the name 'Asimi' (silver) for the fictitious Sifnos village where I set my romance, The Amulet.
Another endearing sight around the island involves the traditional pigeon houses that are stunning to behold and can be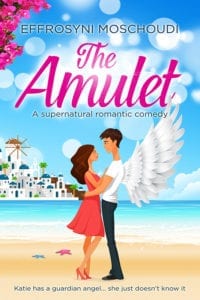 found everywhere, sometimes standing on their own in the middle of fields. Click here for more info:
For further travel info & hotel bookings on Sifnos, click here!
Thanks to Effrosyni for her fabulous tour of the island of Sifnos! You can follow her on Twitter, Facebook and her official website. Do buy her book here and access all her books here
And come and join team TripFiction on Social Media:
Twitter (@TripFiction), Facebook (@TripFiction.Literarywanderlust), YouTube (TripFiction #Literarywanderlust), Instagram (@TripFiction) and Pinterest (@TripFiction)