Snapshots of single life in the city, New York
28th April 2017
All Grown Up by Jami Attenberg, snapshots of single life in the city, New York.
This is a fictional but all too real account of one woman's voyage through life, battered by family, societal pressures and her own inner demons. Andrea, the character at the heart of the book, is absolutely clear that she does not want a child of her own (even though she hits the big 40 partway during the narrative).
Her life is spread eagled across the pages for the reader to pick over. Each chapter is a snapshot of an episode in her life, whether it is looking back over some of her chaotic childhood years – Dad was a drug user who died too early; Mum, once on her own again, runs bi-monthly dinner parties in the 1990s attended by only men, who of course try and hit on Andrea, a teenager at the time; or whether it is an examination of her relationships with her friends, lovers and acquaintances who pass through her life now.
Her Mother thinks marriage is "a beautiful idea" but Andrea is clear that it is not an institution for her. Her best friend and yoga teacher Indigo has had a baby, lives in a lovely loft apartment but Andrea's bristling distaste of the set-up is palpable on the page. And that is what this author does really well, she can write, she can conjure up atmospheres, feelings and responses, and she can describe the desolation of someone who is ploughing their way through life, pitted against adversity and against  societal "norms".
Andrea also has a brother who in turn has a daughter, only tiny, who was born with a congenital problem and her life expectancy is only around four years. Yet, our self absorbed protagonist (there! I said it at last! Andrea is very much part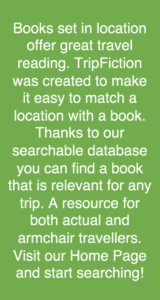 of the 'me' culture) does not really visit to offer support because she is so wrapped up in her own world. She simply does not have the resources to offer a worthwhile helping hand to others. She is anxiously attached to her Mother (not surprising given her childhood experiences), and she can't bear that her Mother abandons her in the city, yet conversely longs to have a better relationship with her. She often finds herself spurning the intimacy of others offering the hand of friendship.
This is an interesting read, on-point in many ways – it smacks of New York and of lives lived in the city, Freudian Angst, neuroses and all the shtick of metropolitan Manhattan. But I think I would only really like to encounter Andrea on a future occasion once she has regrouped and worked once more with her therapist (who was fired halfway through the narrative) and addressed her growling anger (which must be draining for her, but is also draining, sapping, for the reader too). Towards the end of the book, however, without giving away any spoilers, there seems to be some honing of her sharp and dissonant character, so there is hope of a more accepting and less angry person in the next chapter of her life. Her existence in many ways is portrayed as 'bitter and edgy" and at times feels rather soulless. It's all very depressingly 21st Century….
Tina for the TripFiction Team
You can follow Jami on Twitter, Instagram, Facebook and via her website
Catch up with Team TripFiction on Social Media:
Twitter (@TripFiction), Facebook (@TripFiction.Literarywanderlust), YouTube (TripFiction #Literarywanderlust), Instagram (@TripFiction) and Pinterest (@TripFiction)
For many more books to transport you to NEW YORK, just click here