Talking Location with author Clare Flynn – The Blue Mountains, Australia
17th April 2017
#TalkingLocationWith... author Clare Flynn – The Blue Mountains, Australia, the setting for her novel "A Greater World"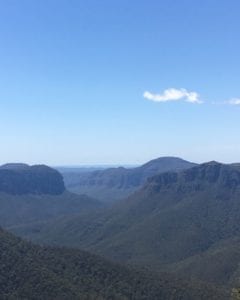 On my first visit to Australia in 1995 I visited the Blue Mountains and knew immediately I wanted to set a book there. It was almost twenty years later in 2014 that A Greater World was finally published. In those days life had a habit of getting in the way. I'm pleased to say my productivity has increased since, and my fifth novel will be out later this year.
In that first trip I stayed in Katoomba at Lilianfels Resort and Spa in a room with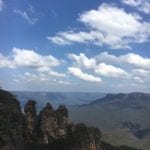 a view over the valley. The hotel and its setting was the inspiration for Kinross House, one of the locations in A Greater World. I haven't stayed there since and imagine it has changed a lot – its fantastic location close to the beautiful Jamison Valley has made it a top choice as a wedding venue.
Dropping by the hotel for an afternoon high tea would be the perfect follow-up to a visit to Echo Point to take in the spectacular views of the Three Sisters and the Jamison Valley. Take a walk down The Giant Stairway if you're up to the steep climb with lots of stairs – well worth it for the scenery. Or if you're not up to the climb, you can take the Scenic Skyway and travel over the valley by cable-car. They have glass floors to see the rainforest below. Another option is the Scenic Railway – the steepest railway in the world – constructed on what was once a mining tramway.
One of the stories is that the Three Sisters rock formation was named for three young women whose father turned them to stone to save them from marriage to neighbouring tribesmen. He was killed in the subsequent battle and there was no one left to bring the sisters back to their mortal form, consigning them for eternity to look out over the valley. The less romantic may scoff at this supposed Aboriginal tale and prefer to believe that it was made up by a local man in the 1920s keen to boost the local tourist trade.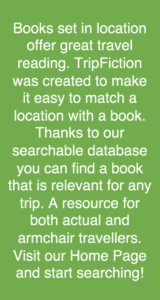 I named my book A Greater World after a poem, The Blue Mountains – A Song of Australia, written by Alfred Noyes and put to music by Edward Elgar for the British Empire Exhibition in 1924. The book is set in the same period so it was an apt choice.
"We left the world behind us
The mists of time unfurled
And over the Blue Mountains
We found a greater world."
I chose Katoomba as the prototype for my fictional MacDonald Falls, but changed its name because I needed the town to have a working coal mine but mining had ceased by the 1920s when the book is set, although it continued in other Blue Mountains towns.
Thanks so much to Clare for sharing the backstory to her novel. You can follow Clare on Twitter, Facebook and via her website
Catch up with Team TripFiction on Social Media:
Twitter (@TripFiction), Facebook (@TripFiction.Literarywanderlust), YouTube (TripFiction #Literarywanderlust), Instagram (@TripFiction) and Pinterest (@TripFiction)
For more books set all around Australia, just click here