Talking Location with author Freya Barrington – Thailand
15th November 2016
#TalkingLocationWith…. author Freya Barrington who deals with the darker side of Thailand.
What springs to mind when someone mentions Thailand?
Beautiful beaches, clear waters, stunning temples with almost unbelievable architecture?
Fabulous cheap food, Tibetan monks, resplendent in orange; or maybe even the wild life?
All of the above images would be accurate. Thailand is indeed a place of wonder and incredible inspiring sights.
For many people however, the thought of Thailand conjures up a very different image.
A vast country, with once proud roots, I was inspired to use Thailand as a location for my latest novel, Caught in Traffick, due to its reputation as a sink hole of depravity. A reputation, which in my opinion, is well-deserved. I do not say this lightly.
It is sadly a well-known fact that men (and women) who wish to engage in illegal sexual activity with children, can do so with relative ease in Thailand.
The children's charity The Sold Project estimates that there are around 60,000 children involved in the commercial sex trade in Thailand*.
While I am aware that children are sexually exploited the world over; there are few places on earth that they are more vulnerable and less protected by their own Government than in Thailand.
According to a 2016 US Department of State report;
**"The Government of Thailand does not fully comply with the minimum standards for the elimination of trafficking, and is making little effort to do so".
Thailand's reputation as a place where one can go and indulge in sexual activity with children with little chance of redress, makes it a magnet for paedophiles. Those responsible for supplying these depraved men (or women) with their wretched victims are well-organised, cunning and arrogant. Safe in the knowledge that all they need to avoid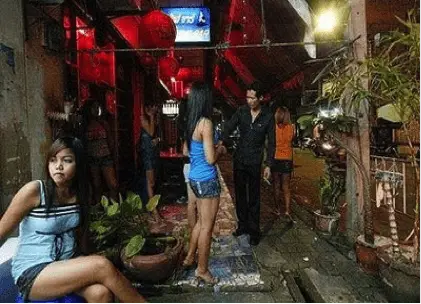 Less common, is the abduction of children who are then forced into prostitution. Some of these children are those of holiday makers, and while rare, it does happen. There are an average of seven young children a year who are kidnapped in Thailand, and it is against this backdrop of corruption and perversion that my novel is set. Focusing mainly on the kidnap of two European children, the book aims to highlight the issue of child trafficking for the sex trade. I also draw attention to the marked differences between the abduction of European children and the ensuing media drama, against the almost unacknowledged disappearance of local children, who elicit an apathetic response.A high percentage of the ill-fated children who fall into the hands of these gangs are sold into prostitution. While prostitution is officially illegal in Thailand, it is estimated that the trade is worth around $6.4 billion per annum, making it an essential part of the Thai economy.
So, why don't the police do something about it?
Consider that the average police officer in Thailand earns approximately £163 per MONTH at entry level, rising to only £350 a month for a more senior officer. In addition, they have to buy their own uniform, guns, and even bullets! It is small wonder they lack motivation, and have a reputation for being corrupt and easy to bribe.
A 2008 article in The Economist noted: "In Thailand's most sensational crimes, the prime suspects are often the police".
As a qualified child protection social worker I am more than aware of the issues which are faced by many of the world's children, which thankfully children in the UK do not have to deal with. However, having never visited Thailand, I relied on extensive reading and research into the above issues in order to give a realistic overview of the complexity and magnitude of the problem. I was also fortunate in having a dear friend who for many years had a business in the Far East and was key in enabling me to breathe life into the descriptive narrative.
Caught in Traffick is the sequel to my best selling debut book, Known to Social Services, and sees the main character, social worker Diane Foster caught up in a complex and frightening web of criminal exploitation of the worst kind.
Thank you to Freya for sharing her insight into the terrible situation that so many people face. You can follow her on Facebook and via her website
And do come and connect with Team TripFiction via Twitter (@tripfiction), Facebook (TripFiction), Instagram (TripFiction) and Pinterest (TripFiction)… and now YouTube