Ten Great Books set In Mumbai
21st October 2020
Mumbai (Bombay) is the latest city for us to visit in our 'Great books set in…' series. Ten great books set in Mumbai.
"Mumbai is like Manhattan. There's a certain pace, a social life and the thrill of a professional life" Madhuri Dixit
The present day city was built on what was originally an archipelago of seven islands of Bombay Island, Parel, Mazagaon, Mahim, Colaba, Worli, and Old Woman's Island (also known as Little Colaba). The islands were coalesced into a single landmass by the Hornby Vellard engineering project in 1784. Bombay was renamed Mumbai in 1996, although many still refer to the city as Bombay.
Compassionate realism and narrative are vividly captured in this masterpiece. It is 1975 and India is in a state of flux, the location is an unnamed city by the sea – but actually Mumbai. A state of emergency has just been declared and the lives of three characters are thrown together – a spirited widow, and two tailors from a hill station – living in a tiny apartment with an uncertain future.
'In the early 80s, Gregory David Roberts, an armed robber and heroin addict, escaped from an Australian prison to India, where he lived in a Bombay slum. There, he established a free health clinic and also joined the mafia, working as a money launderer, forger and street soldier. He found time to learn Hindi and Marathi, fall in love, and spend time being worked over in an Indian jail. Then, in case anyone thought he was slacking, he acted in Bollywood and fought with the Mujahedeen in Afghanistan . . . Amazingly, Roberts wrote Shantaram three times after prison guards trashed the first two versions. It's a profound tribute to his willpower . . .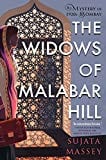 Bombay, 1921: Perveen Mistry, the daughter of a respected Zoroastrian family, has just joined her father's law firm, becoming one of the first female lawyers in India. Armed with a law degree from Oxford, Perveen also has a tragic personal history that makes her especially devoted to championing and protecting women's legal rights. Inspired in part by a real woman who made history by becoming India's first female lawyer, The Widows of Malabar Hill is a richly wrought story of multicultural 1920s Bombay as well as the debut of a sharp and promising new sleuth, Perveen Mistry.
Annawadi is a slum at the edge of Mumbai Airport, in the shadow of shining new luxury hotels. Its residents are garbage recyclers, construction workers and economic migrants, all of them living in the hope that a small part of India's booming future will eventually be theirs. But when a crime rocks the slum community and global recession and terrorism shocks the city, tensions over religion, caste, sex, power, and economic envy begin to turn brutal. As Boo gets to know those who dwell at Mumbai's margins, she evokes an extraordinarily vivid and vigorous group of individuals flourishing against the odds amid the complications, corruptions and gross inequalities of the new India
If you were to write a story set in Bombay, as the poet Jeet Thayil prefers to call the city now known as Mumbai in his outstanding debut novel, you don't have to work too hard. Much of it can write itself if you connect the dots of history: a city made of islands reclaimed by the British, a polyglot culture where all of India's languages, faiths and castes mingle, where the prevailing currency is money and its dreams are told, nay, sung, in those schmaltzy, kitschy Bollywood movies, and which lives on an edge, periodically blown up when terrorists set explosives, but returning to life the next day, resilient and resigned. The Independent
Bombay, 1913
It's New Year's Eve, and Madeline Bright, fresh to the exotic opulence of colonial India, is yearning for all she's left behind in England. But then, at the stroke of midnight, Maddy meets Luke Devereaux, and as the year changes so do their lives – forever…
Bold and charismatic, Luke opens her eyes to the wonders of Bombay, while Maddy's beauty and vivacity captures his heart. Only her mother disapproves, preferring the devoted Guy Bowen as a match for her daughter.
But while Maddy and Luke are falling in love, the world is falling apart. War is on the horizon, and soon it's a question of when Luke will be called to fight, not if. They'll be continents apart, separated by danger and devastating loss, but bound by Luke's promise that they will meet again in Bombay…
Autumn 1928. Three young women are on their way to India, each with a new life in mind. Rose, a beautiful but naive bride-to-be, is anxious about leaving her family and marrying a man she hardly knows. Victoria, her bridesmaid couldn t be happier to get away from her overbearing mother, and is determined to find herself a husband. And Viva, their inexperienced chaperone, is in search of the India of her childhood, ghosts from the past and freedom. Each of them has their own reason for leaving their homeland but the hopes and secrets they carry can do little to prepare them for what lies ahead in India. From the parties of the wealthy Bombay socialites, to the ragged orphans on Tamarind Street, EAST OF THE SUN is an utterly engaging novel that will captivate readers everywhere.
Vikram Chandra's novel draws the reader deep into the life of Inspector Sartaj Singh—and into the criminal underworld of Ganesh Gaitonde, the most wanted gangster in India. It is is a story of friendship and betrayal, of terrible violence, of an astonishing modern city and its dark side.
Seven years in the making, Sacred Games is an epic of exceptional richness and power. Vikram Chandra's novel draws the reader deep into the life of Inspector Sartaj Singh—and into the criminal underworld of Ganesh Gaitonde, the most wanted gangster in India.
Sartaj, one of the very few Sikhs on the Mumbai police force, is used to being identified by his turban, beard and the sharp cut of his trousers. But "the silky Sikh" is now past forty, his marriage is over and his career prospects are on the slide. When Sartaj gets an anonymous tip-off as to the secret hide-out of the legendary boss of G-Company, he's determined that he'll be the one to collect the prize.
Vishnu, the odd-job man in a Bombay apartment block, lies dying on the staircase landing. Around him the lives of the apartment dwellers unfold – the warring housewives on the first floor, the lovesick teenagers on the second, and the widower, alone and quietly grieving at the top of the building. In a fevered state Vishnu looks back on his love affair with the seductive Padmini and comedy becomes tragedy as his life draws to a close.
21st Century Mumbai is a city of new money and soaring real estate, and property kingpin Dharmen Shah has grand plans for its future. His offer to buy and tear down a weathered tower block, making way for luxury apartments, will make each of its residents rich – if all agree to sell. But not everyone wants to leave: many of the residents have lived there for a lifetime, many of them are no longer young. As tensions rise among the once civil neighbours, one by one those who oppose the offer give way to the majority, until only one man stands in Shah's way: Masterji, a retired schoolteacher, once the most respected man in the building. Shah is a dangerous man to refuse, but as the demolition deadline looms, Masterji's neighbours – friends who have become enemies, acquaintances turned co-conspirators – may stop at nothing to score their payday…
Check out further books to transport you to Mumbai
Join team TripFiction on Social Media:
Twitter (@TripFiction), Facebook (@TripFiction.Literarywanderlust), YouTube (TripFiction #Literarywanderlust), Instagram (@TripFiction) and Pinterest (@TripFiction)