Ten great books set in RUSSIA
20th March 2018
Russia is the latest country for us to visit in our 'Ten great books set in…' series. 'Ten great books set in Russia'. Russia, or the Russian Federation, is a country spanning Eastern Europe and Northern Asia. It is the largest country in the world, covering over 17,125,191 square kilometres, and encompassing one-eighth of Earth's inhabitable landmass.
'Without effort, you won't even pull a fish out of a pond' – Russian saying
Any list of books set in Russia – however you define this 'country' – is bound to include espionage thrillers, alongside stories of war, revolution and corruption. But do not discount the natural beauty, dark humour and fascinating landscape of a place that continues to enthral, horrify and excite in equal measure.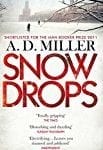 That's what the Russians call them – the bodies that float up into the light in the thaw. Drunks, most of them, and homeless people who just give up and lie down into the whiteness, and murder victims hidden in the drifts by their killers.
Nick has a confession. When he worked as a high-flying British lawyer in Moscow, he was seduced by Masha, an enigmatic woman who led him through her city: the electric nightclubs and intimate dachas, the human kindnesses and state-wide corruption. Yet as Nick fell for Masha, he found that he fell away from himself: he knew that she was dangerous, but life in Russia was addictive, and it was too easy to bury secrets – and corpses – in the winter snows
In Stalin's Soviet Union, crime does not exist. But still millions live in fear. The mere suspicion of disloyalty to the State, the wrong word at the wrong time, can send an innocent person to his execution.
Officer Leo Demidov, an idealistic war hero, believes he's building a perfect society. But after witnessing the interrogation of an innocent man, his loyalty begins to waver, and when ordered to investigate his own wife, Raisa, Leo is forced to choose where his heart truly lies.
Then the impossible happens. A murderer is on the loose, killing at will, and every belief Leo has ever held is shattered. Denounced by his enemies and exiled from home, with only Raisa by his side, he must risk everything to find a criminal that the State won't admit even exists. On the run, Leo soon discovers the danger isn't from the killer he is trying to catch, but from the country he is trying to protect.
This series celebrates every aspect of Russia's most legendary city – essential reading for travellers and lovers of wonderful writing about Russia.
Malcolm Bradbury guides us to the Hermitage
Anna Pavlova describes her school days
Vladimir Nabokov re-lives a Petersburg winter
Helen Dunmore plunges us into the worst of times
Serge Dovlatov shows some 'different' Petersburg film-making
Dmitry Shostakovich reveals a musical secret
Truman Capote takes Porgy and Bess to the Soviets
Nikolai Gogol walks us down Nevsky Prospekt
J. M. Coetzee reimagines Dostoyevsky
… over sixty writers on one of the world's most beautiful and haunting cities
Leningrad, September 1941. Hitler orders the German forces to surround the city at the start of the most dangerous, desperate winter in its history.
For two pairs of lovers – Anna and Andrei, Anna's novelist father and banned actress Marina – the siege becomes a battle for survival. They will soon discover what it is like to be so hungry you boil shoe leather to make soup, so cold you burn furniture and books. But this is not just a struggle to exist, it is also a fight to keep the spark of hope alive . . .
A Mountain of Crumbs is the moving story of a young Soviet girl's discovery of the hidden truths of adulthood and her country's profound political deception.
Elena, born with a desire to explore the world beyond her borders, finds her passion in the complexity of the English language – but in the Soviet Union of the 1960s, such a passion verges on the subversive. Elena's home is no longer the majestic Russia of literature or the tsars. Instead, it is a nation humiliated by its first faltering steps after World War II, putting up appearances for the sake of its regime and fighting to retain its pride.
In this deeply affecting memoir, Elena re-creates the world that both oppressed and inspired her. She recounts stories passed down to her about the horrors of the Bolshevik Revolution and probes the daily deprivations and small joys of her family's bunkerlike existence. Through Elena's captivating voice, we learn not only the personal story of Russia in the second half of the twentieth century, but also the story of one rebellious citizen whose love of a foreign language finally transports her to a new world.
Among the Russians is a marvellous account of a solitary journey by car from St. Petersburg and the Baltic States south to Georgia and Armenia.
A gifted writer and intrepid traveller, Thubron grapples with the complexities of Russian identity and relays his extraordinary journey in characteristically lyrical style. This is an enthralling and revealing account of the habits and idiosyncrasies of a fascinating nation along with a sharp and insightful social commentary of Russian life.
Crash by Toby Vincent
Formula One driver Remy Sabatino is leading the Drivers' Championship, in a car that is the quickest of the season by far. But that also means Sabatino's Russian teammate is the fastest too…Their rivalry couldn't be more toxic ahead of the Grand Prix in Moscow. TV viewers around the world are about to witness the most catastrophic crash in Formula One history. Was this caused by the acrimony between these drivers? Matt Straker, former Royal Marine and corporate intelligence director, is again called in to investigate and he soon finds himself confronted by a corrupted legal system and battling with powerful – and violent – vested interests. Could it be that wrapped up in the political symbolism of the Moscow Grand Prix are, perhaps, the very seeds of its undoing…
The Last Englishman: The Double Life of Arthur Ransome by Roland Chambers
Arthur Ransome is best known for the twelve immortal "Swallows and Amazons" books he wrote on his return from Russia in 1928. From his prose he appears a genial and gentle Englishman, who, like his protagonists, pursued benign maritime adventures. Nothing could be further from the truth. By the time he wrote his masterpieces, the most interesting episodes of his life were well behind him. For Ransome led a double, and often tortured, life. Before his fame as an author, he was notorious for very different reasons: between 1917 and 1924, he was the Russian correspondent for the Daily News and the Manchester Guardian, and his sympathy for the Bolshevik regime gave him unparalleled access to its leaders, policies, politics, and plots. He was also the lover, and later the husband, of Evgenia Shelepina, Trotsky's private secretary, as well as friends with Karl Radek, the Bolshevik's Chief of Propaganda, and Felix Dzerzhinsky, founder of the secret police. In denying the horrors that followed the Revolution, and in considering Stalin a latter-day Cromwell, he was the bane of the British establishment. Yet his contacts earned him not only the admiration of liberals, both in the U.K. and the U.S., but a place in the British Secret Intelligence Service.
When historian Fluke Kelso learns of the existence of a secret notebook belonging to Josef Stalin he is determined to track it down, whatever the consequences.
From the violent political intrigue and decadence of modern Moscow he heads north – to the vast forests surrounding the White Sea port of Archangel, and a terrifying encounter with Russia's unburied past.
When they took everything from her, they didn't count on her fighting to get it back…
Born into the House of Romanov to the all-powerful Peter the Great and Catherine I, beautiful Tsarevna Elizabeth is the world's loveliest Princess and the envy of the Russian empire. Insulated by luxury and as a woman free from the burden of statecraft, Elizabeth is seemingly born to pursue her passions.
However, a dark prophecy predicts her fate as inexorably twined with Russia. When her mother dies, Russia is torn, masks fall, and friends become foes. Elizabeth's idyllic world is upended. By her twenties she is penniless and powerless, living under constant threat. As times change like quicksand, an all-consuming passion emboldens Elizabeth: she must decide whether to take up her role as Russia's ruler, and what she's willing to do for her country – and for love.
Tony for the TripFiction Team
Which titles would you add to the list? Remember there are more than 230 to choose from in the Russia listings on TripFiction…! Each will transport you to some excellent fiction, travelogues or memoirs set in this sprawling country. Or you may have your own favourites you would like to include. Please leave your thoughts in the Comments box below.
Do come and join team TripFiction on Social Media:
Twitter (@TripFiction), Facebook (@TripFiction.Literarywanderlust), YouTube (TripFiction #Literarywanderlust), Instagram (@TripFiction) and Pinterest (@TripFiction)
Do access our full database for book set in Russia