The Costa Book Awards 2018
9th January 2019
The Costa Book Awards started life in 1971 as the Whitbread Prize, morphing into Costa sponsorship from 2006. The Awards recognise English language work from writers based in Britain and Ireland, and are given to books with both literary merit and popular appeal, differentiating the Costa Book Awards from the more highbrow Man Booker Prize.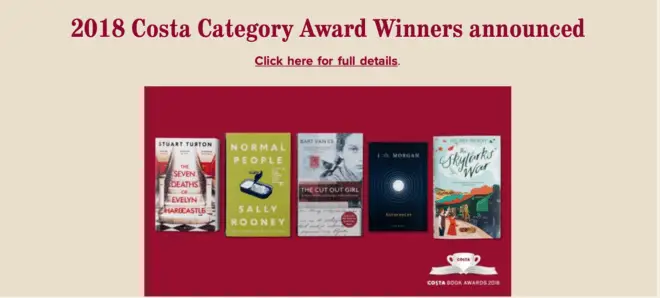 The winners of the Costa Awards for 2018 have just been announced. Here is a quick summary of the winners and shortlist for each of the main fiction categories, together with a note of any strong sense of place used by the author and of interest to TripFiction members.
COSTA NOVEL AWARD 2018
WINNER – Normal People by Sally Rooney– set in IRELAND 
Sally Rooney is the youngest ever winner of the main Novel Award, the latest garland hung around the talented Irish writer's 28 year old neck.
Connell and Marianne grow up in the same small town in rural Ireland. The similarities end there; they are from very different worlds. When they both earn places at Trinity College in Dublin, a connection that has grown between them lasts long into the following years.
This is an exquisite love story about how a person can change another person's life – a simple yet profound realisation that unfolds beautifully over the course of the novel. It tells us how difficult it is to talk about how we feel and it tells us – blazingly – about cycles of domination, legitimacy and privilege. Alternating menace with overwhelming tenderness, Sally Rooney's second novel breathes fiction with new life.
Read TripFiction's Andrew's review here – A love story like no other.
SHORTLISTED:
The Italian Teacher by Tom Rachman– set in LONDON, NEW YORK CITY, ROME & FRANCE
What makes an artist? In The Italian Teacher, Tom Rachman displays a nuanced understanding of art and its demons. Moreover, in Pinch he achieves a portrait of vulnerability and frustrated talent that – with his signature humour and humanity – challenges the very idea of greatness.
Keep your eyes firmly fixed on the TripFiction Book Club page – we'll be reading The Italian Teacher in March and April, and TripFiction members can win a copy of this shortlisted book.
From a Low and Quiet Sea by Donal Ryan– set in IRELAND & SYRIA
Three men, searching for some version of home, their lives moving inexorably towards a reckoning that will draw them all together.
The Silence of the Girls by Pat Barker
COSTA FIRST NOVEL AWARD 2018
WINNER 
The Seven Deaths of Evelyn Hardcastle by Stuart Turton
Gosford Park meets Groundhog Day by way of Agatha Christie and Black Mirror – the most inventive story you'll read this year
Tonight, Evelyn Hardcastle will be killed … Again
It is meant to be a celebration but it ends in tragedy. As fireworks explode overhead, Evelyn Hardcastle, the young and beautiful daughter of the house, is killed.
But Evelyn will not die just once. Until Aiden – one of the guests summoned to Blackheath for the party – can solve her murder, the day will repeat itself, over and over again. Every time ending with the fateful pistol shot.
The only way to break this cycle is to identify the killer. But each time the day begins again, Aiden wakes in the body of a different guest. And someone is determined to prevent him ever escaping Blackheath…
SHORTLISTED:
Meet Me at the Museum by Anne Youngson
Pieces of Me by Natalie Hart
An Unremarkable Body by Elisa Lodato
The full list of shortlisted books for all the Costa Book Awards 2018 can be found here, and the winners here.
Have you read any of these books? Do you agree with the judges' decisions? Which were your own favourites?
Andrew for the TripFiction team
Please leave a comment below and do come and join team TripFiction on Social Media:
Twitter (@TripFiction), Facebook (@TripFiction.Literarywanderlust), YouTube (TripFiction #Literarywanderlust), Instagram (@TripFiction) and Pinterest (@TripFiction)