Thriller set around GLASGOW and environs
18th May 2020
The Sideman by Caro Ramsay, thriller set around Glasgow and environs.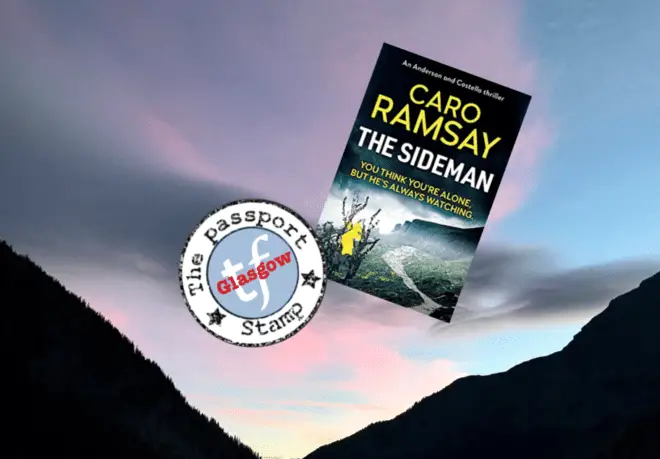 This is Book 10 in the Anderson and Costello series, firmly set around Glasgow and environs.
Abigail and Malcolm Haggerty, mother and young son, have been brutally murdered in their house in Balcarres Avenue (a street that exists in Kelvindale). DI Costello is convinced that husband / father George was the perpetrator but her conclusions fall on deaf ears. She seems sufficiently convinced that she resigns her job, in order, it seems to carry out her own, stalkerish investigations. This leaves her partner Anderson very much in the front line, who already has a dubious, familial connection to George Haggerty.
In the frame is Abigail's sister, who, it is clear early on, has an alcohol problem.
At the beginning and as the story builds, each chapter opens with a descriptive passage, followed up by seemingly random snapshots of some other events unfolding in the vicinity. A woman with wounds and amnesia arrives in hospital to be treated, a body is found in the wilds, and elsewhere in the wilderness there is a massive pool of blood – the ranger believes this derives from some kind of animal killing (after all, the mutilated body of a marsupial, from the colony on Inchconnachan, has recently been found). But does it?
There are plenty of unrelated events which unfold at a breathless pace. It can be a little hard to keep up with everything and keep the events ordered, but if you are feeling bullish and on the ball, this should not be a problem.
I find that when a novel opens with details of the cast of characters, I immediately feel anxious, I worry that I will not be able to keep track of them all. I wonder if other readers respond like this? Yes, the novel is well populated with a diverse array of characters and once the story gets embedded, it is reasonably easy to remember who is who and then follow their stories.
The book is set in the late Autumn, and the weather and short days certainly add a frisson of tension to the overall story as the narrative moves around the city and into the mountains.
You can read this book as a stand-alone but I think that you might well have a richer experience if you build up to this, no. 10, by reading previous books in the series.
Tina for the TripFiction Team
Catch Caro on Twitter
Join Team TripFiction on Social Media:
Twitter (@TripFiction), Facebook (@TripFiction.Literarywanderlust), YouTube (TripFiction #Literarywanderlust), Instagram (@TripFiction) and Pinterest (@TripFiction)