Thriller set on the Maldives ("…stranded in Paradise")
30th May 2017
The Honeymoon by Tina Seskis, thriller set on The Maldives.
The story is set on the seven star and fictional atoll of Baadhoo, Maldives..
Jemma has had her eye on the Maldives for her honeymoon for as long as she can remember. Time to find a husband to fulfil her dream…..
She is gradually getting established as an interior designer and has a couple of projects abroad, her company trusts her to be the lead designer. Successful, then. She meets Dan on the internet, who is a gardener, again, successful in his own field, although he does not really fit into the more high brow friendship group she has. She blows hot and cold, they go through several hoops but she acknowledges that he brings her a degree of contentment and care for which she yearns.
The chapters in the book are "now" and "then". "Then" encompasses a period of seven and a half years, charting the progression – often stormy – of Jemma's path to the altar. "Now" is Jemma in the Maldives, on honeymoon, facing the prospect that her husband has disappeared. Now is in the first person which builds the pathos and makes the development of events feel very immediate and taut. Then is in the third, giving the build-up to the honeymoon a descriptive feel. These timelines appear in alternate chapters.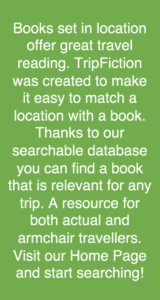 In the Maldives she befriends Chrissy and Kenny who seem to be a blingy couple with their own marital problems. They are a stereotypical pair turning up in gold jewellery, and Chrissy even chooses tight silver hot pants and stilettos (ideal, of course, for walking on sand). They have picked up that Jemma, now Mrs Armstrong, and her husband really aren't happy. And for sure there are descriptions of marital discord. They are both indebted to Gemma as she finds herself rescuing each of them in turn from watery difficulties.
Jemma's husband has suddenly disappeared, what can have happened to him… there seems to be a secret bank account, his snorkelling gear has been abandoned at the water's edge. Did he drown….has he been murdered….has he perhaps gone off with someone else?
We have to largely take the word of the author that things are not right between the primary couple, Jemma and her husband, as well as Chrissy and Kenny. But the substantive issues at the heart of each relationship are glossed over, as transitional as Chrissy's lip gloss, and not sufficiently fleshed out to really underpin behaviour and developments. A hint of domestic violence, controlling behaviour, sibling rivalry, anger, and ornery (the last noun is used several times to describe Jemma)… all issues alluded to but not altogether effectively explored.
The Maldives come across utterly picturesque, as indeed they are. But it also shows how human behaviour can implode when every whim is catered to, and doing nothing in luxury surroundings is actually quite hard for some. However, the story would not in any way put me off going to the Maldives again!
I did not see the ending coming, at all. It was to my mind eye popping and rather random, pretty much plucked out of the ether, and it didn't really work for me.
It is nevertheless a gripping read, with a great, exotic setting. It would be a good choice for Summer holiday reading.
Tina for the TripFiction Team
You can follow Tina Seskis on Twitter, Facebook and via her website and of course buy her book here.
Come and join team TripFiction on Social Media:
Twitter (@TripFiction), Facebook (@TripFiction.Literarywanderlust), YouTube (TripFiction #Literarywanderlust), Instagram (@TripFiction) and Pinterest (@TripFiction)
For more books set in the Maldives, just click here!