Top tips for Prague from Prague City Tourism #TFBookClub
22nd May 2017
THE #TFBOOKCLUB IS CURRENTLY READING "PRAGUE NIGHTS" AND THERE'S NO BETTER WAY TO GET TO KNOW THE CITY THAN A FEW WORDS FROM THE EXPERTS!  
TOP TIPS FOR PRAGUE from PRAGUE CITY TOURISM
PRAGUE: In conjunction with #TFBookClub, where we are currently reading Benjamin Black's novel "Prague Nights", the lovely people at Prague City Tourism have let us share their insights into this atmospheric and historic city. If your interest in Prague is already piqued by reading the novel (we are reading and chatting here), then these top tips will just make you want to visit even more!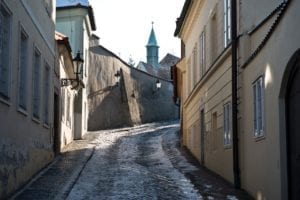 Whether you're interested in history, architecture, music, shopping, food, or the famous Czech beer, here are the 10 top reasons to visit Prague now
Famous battles, assassinations, the mysterious deaths of the Cold War, incendiary torches… the capital city of Prague has a long and chequered history. The Czech metropolis has suffered many conflicts, some of which have been key milestones in European history. Here are some of the places linked to dramatic events in the city, both ancient and recent
"Prague without the Vltava river would be like an orchestra without its conductor." The famous river winds its way through the city, and is often mentioned in Prague Nights as Christian Stern tries to uncover the dark secret of who murdered the Emperor's young mistress. Read here to find out more about its historical significance and current uses
Food plays a part in Prague Nights, particularly for the gluttonous Bishop Malaspina. Here are 7 ways to eat well in 21st century Prague
Alchemy and magic abound in the novel…hear how some of the old Czech traditions and taboos survive today. Just click here!
Prague Castle and the surrounding area, particularly the atmospheric Hradčany district, are the focal points for the mysterious events in Prague Nights – there are some fascinating insights here
Photos © Prague City Tourism
Take a look at the Prague City Tourism website for more information about this wonderful city as you read Prague Nights and plan your own visit there, in the footsteps of Christian Stern….
Now come and join team TripFiction on Social Media:
Twitter (@TripFiction), Facebook (@TripFiction.Literarywanderlust), YouTube (TripFiction #Literarywanderlust), Instagram (@TripFiction) and Pinterest (@TripFiction)
And for more books to transport you to Prague, just click here