'Two Dark Tales', our review plus a piece from the author
26th October 2017
Two Dark Tales: Jack Squat and The Niche by Charles Lambert, set in Italy (Lazio) and England.
A small book that brings together two different stories in one volume. Read your first choice, turn the book over and start afresh with the second novella, two-in-one, a very novel approach to publishing. And both from Charles Lambert, the master of the "literary uncanny"…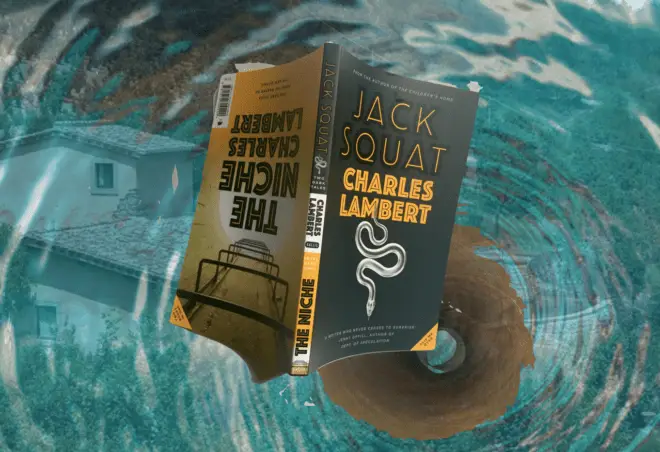 Jack Squat is set in the Lazio area of Italy. Gordon is unemployed, living with his partner Omar and needs to find a financial solution to their woes. They alight on a plan to sell houses to the unsuspecting. Their first buyer is Cees, a Dutchman, who buys a house that has four entrances but no connecting doors inside, owned by four family members. Omar and Gordon are the facilitators for the purchase. But there is a very dark history associated with the house and soon the two men hear mournful and alarming tales of Cees in his new home.
Ignoring any salutary lessons from the first sale, they devise a second to dupe an eager purchaser and then hightail it off to foreign lands. But the dark consequences of their actions come back to haunt them, devastating their carefully crafted new existence.
Beautifully written, there is a dark and ominous thread that pervades the story. Snakes, faeces and holes in the ground, a cistern maybe or a well, that draw the characters to gaze into the black abyss and what it means to behave responsibly.
Turning the book over and you come to The Niche. Billy Lender is nearly eleven years old and mercilessly bullied at school. He steals copies of the magazine "Rugged Men" from his local newsagent and pores over the images of men tied and flagellated, in all kinds of sado masochistic settings. These embolden him and tap into his budding sexual awakening….
Billy finds his niche, his hiding place and bolt hole when he has too much attention foisted upon him by the Lees Twins and arch bully Horton. Injuries and abuse, both physical and verbal, rain down upon him, but gradually a hissing in his ears indicates that the tide is turning and empowerment is possible.
Two very different stories each with an eerie malevolence threading its way through the narratives.
Tina for the TripFiction Team
Over to Charles who shares with us his property buying experience in Fondi, Lazio!
Fondi is just over an hour from Rome, on the Rome-Naples line. It has one of those shared stations you find all over Italy, poised between two towns, in this case Fondi and the fishing village of Sperlonga, with a double-barrelled name and a muddle of buses waiting outside. The Fondi bus heads inland and the first formal indication of the town is a sign announcing its twinned status with Dachau. It isn't until the bus has turned another corner that the historic centre appears at the end of a narrow road: the square tower at the base, a second squat cylindrical tower above, of the Torrione.
Our first day in the town, we skirted the Torrione and followed our noses down what appeared to be the main street until we came to a sunlit square, with a church on one side at the head of a flight of steps and, beside it, an estate agents. Ten minutes later we were looking at property.
We saw the house we would buy that same morning: the top two floors of a stone building in a cul-de-sac overlooking Via Cavour. The estate agent, a woman in her twenties wearing patent leather stilettos, an abundant fur coat – this was late spring – and a hobblingly tight skirt with frills along the hem, refused to climb the almost vertical wooden stairs to the final floor. She worked for a nationwide franchise and didn't seem to care much what we thought about the place, which made me feel that I was onto a good thing. I asked her how much they wanted for it and she said molto poco, but couldn't remember the figure, which made me feel that maybe I wasn't. She was strikingly off-hand. She reminded me of a student of mine, small, with a mass of strong black hair and widely spaced eyes, a pint-sized Sofia Loren, herself an almost local, born eighty miles further south in Pozzuoli. It all seemed a long way from Rome.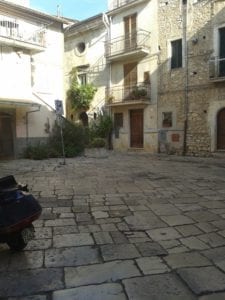 As we walked back to the agency, she asked me why on earth I would want to buy a house in Fondi.
'Why shouldn't I?' I said.
She looked around her with distaste. 'You live in Rome?' she said. I nodded.
'Rome is beautiful,' she said, in English.
'Fondi is beautiful,' I said, also in English.
'Hah! You like the drugs,' she said. She jerked her head towards two men on the church steps, her upper lip curled in contempt. They watched us walk past, their arms resting loosely on their legs, then turned back to stare towards the castle.
'They are waiting for the man,' she said.
'Your English is very good.'
'Oh yes.' She took my arm. 'Without that I speak English, you see, I can never leave Fondi,' she confided.
Thirteen days later, we were standing in the top floor of the house with a surveyor. He said that if our offer were accepted, which was unlikely, we would have found a bargain.
A bargain. The lower floor had two rooms, filled with the furniture people bought fifty years ago, when solid hand-polished wood suddenly seemed dead weight and was replaced by laminated coffee tables and sideboards teetering on brass-tipped legs, by wire-framed magazine racks with primary-coloured beads for feet. The windows had curtains of greying net that trailed on the floor. In the smaller room, the beams of the ceiling were covered with layers of glued-on newspaper, painted white. In the other, a lattice of brown twine had been nailed across the room at pelmet level and the newspaper applied directly to form a sort of ceiling. In one corner, the weight of the paper, or time, or both, had detached the lattice from the wall; it hung, like the hem of a mad giant's dress, above the still-made double bed. People had lived in these rooms, I was told, until a year before.
Upstairs, the broken tiles were littered with the husks of some long-hatched insect. Around the walls were cartons containing glass jars stacked and filled with amber fat. A cupboard-sized alcove in the corner housed an unplumbed-in toilet. A tap on an empty patch of cracked white formica was the only source of water in the house. It produced a hoarse dry cough when turned, but nothing else. Frayed flex dangled and looped from the walls.
I looked out of the window into the tiny square below. The bottom two floors were derelict, the cellar door boarded and nailed shut. Across to the left, an unglazed second-floor window, a frameless hole in the wall with sacking tacked halfway across it, belched out smoke. Behind the smoke I could see a mattress on the earth floor and what looked like an open fire beside it in a cut-down petrol can. When a naked child appeared at the window, I darted back into the room.
The offer we made was for just over eight thousand pounds. After two and a half months of the
owners' wavering and the agent's indifference, during which it seemed that nothing might ever happen and I often forgot about the house completely, only to remember it with an anxious thrill, the offer was accepted.
Thank you so much to Charles for this wonderful piece! You can follow him on Twitter and via his website
Do come and join team TripFiction on Social Media:
Twitter (@TripFiction), Facebook (@TripFiction.Literarywanderlust), YouTube (TripFiction #Literarywanderlust), Instagram (@TripFiction) and Pinterest (@TripFiction)