Authors on location – Robert Harris
21st September 2017
Authors on location – Robert Harris #AuthorsOnLocation
For some writers location is as integral to their story-telling as plot or character. TripFiction takes a look at some of these authors, for whom a sense of place has helped to define their literary output. For the second in the series we have chosen Robert Harris, to coincide with publication of his new novel, Munich.
Robert Harris began his career as a journalist and BBC TV reporter, working on Panorama and Newsnight in the 1980s. Later – at the tender age of 30 – he became political editor of The Observer, and wrote regularly for the Sunday Times and the Daily Telegraph. He had several works of non-fiction published throughout the 1980s, before turning his hand to writing hugely successful novels, all rooted in historical fact but populated with vivid characters and plots from his own imagination, and all with a strong sense of place.
Fatherland – alternate history set in Germany & Switzerland

Described as an alternate history detective novel, Fatherland takes place in a world where Nazi Germany won World War Two, and Hitler is approaching his 75th birthday.
In Berlin, Xavier March – a detective for the Kriminalpolizei – is investigating the murder of a high-ranking Nazi. But the murder of Josef Bühler is only one of many, and March realises he is caught up in a web of serious political intrigue related to the Final Solution planned at the Wannsee Conference in 1942.
March pursues the investigation – with American journalist Charlotte Maguire – to Switzerland, tracing funds relating to one of the murdered officials. Xavier and Charlotte solve the mystery behind the systematic eliminations, but are betrayed by March's 10 year-old son. Xavier ends up on the site of Auschwitz, looking for evidence of its existence as Gestapo agents close in on him.
Enigma – set in Bletchley Park, Buckinghamshire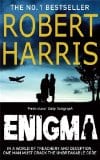 Another work of fiction, but based on the well-known real-life work of Alan Turing and others trying to crack the German U-Boat communications code in World War II.
Based at secretive Bletchley Park in Buckinghamshire – like Alan Turing – Tom Jericho is a brilliant young mathematician working on the edge of exhaustion with the team trying to break the Enigma Code. But Tom is faced with the mysterious disappearance of an ex-girlfriend, suspicious colleagues and the knowledge that a Nazi spy is following him closely, just as an important convoy sets off from the United States.
Harris successful weaves fiction out of fact, but some old code-breakers from Bletchley Park criticised the author for straying too far from the reality of life at Bletchley.
Archangel – set in Russia

Set in contemporary Russia, Archangel imagines the possibility that Stalin had a surviving child, very much cast in the image of his despotic father.
British historian Christopher "Fluke" Kelso meets an old Russian man called Papu Rapava, whilst attending a conference in Moscow. Rapavu claims to have seen the death of Joseph Stalin, and it also turns out that he has access to Stalin's secret diary. The old man is tortured and killed by the authorities, but the diary is safely in the hands of Rapava's daughter.
In reality the notebook contains the memoirs of a young girl chosen by Stalin to provide him with a secret heir. Kelso finds Stalin's son biding his time in a log cabin in the remote northern city of Arkhangelsk, but who can stop the son taking control of the Kremlin, just like his dictator father did all those years ago?
Pompeii – set in Pompeii, Italy
Another work of historical fiction from Harris, introducing fictional characters into the eruption of Mount Vesuvius in 79 AD, which destroyed Pompeii, Herculaneum and other neighbouring towns.
Marcus Attilius Primus arrives in the region, to take charge as aquarius (hydraulic engineer) of the aqueduct supplying water to the towns in the shadow of Vesuvius. The plot introduces several vivid characters before the flow of water from the aqueduct to the community dramatically stops.
Bribery, corruption, theft and murder are at the heart of this re-imagined episode in ancient Roman history, before the factual eruption of Vesuvius and the destruction of Pompeii. The feeding of a slave to pet eels by one of Harris's characters is also apparently based on fact!
The Ghost – set in Martha's Vineyard, USA

The Ghost was a dramatic, and potentially risky, literary departure for Harris. It is another work of historical fiction, but this time based on much more recent events and clearly follows closely the career of Tony Blair as Prime Minister, and his disastrous decision to support US policy and the invasion of Iraq.
Recently deposed British Prime Minister Adam Lang is holed up on Martha's Vineyard in the US, in the holiday home of his wealthy American publisher. He is up against a deadline to produce his memoirs, but Lang's ghostwriter and former political aide, Mike McAra, has drowned in suspicious circumstances.
The unnamed narrator is hired to replace the dead ghostwriter, and soon also becomes immersed in dangerous political intrigue. The parallels with Blair and history continue when the former PM is accused of war crimes, and a leaked memorandum reveals the secret capture and transfer of UK citizens to Guantanamo Bay. But in The Ghost, Lang's former Foreign Secretary is now working for the UN, and can potentially help in the indictment of the tarnished Lang.
Is this close to being a vanity project for Harris? He uses the narrator to tell of the former PM's fall from grace, his own disillusionment with a party and leader he once supported so passionately, and to lay bare the writer's moral dilemma of truth and beliefs in the face of financial reward.
Where his previous novels fictionalised distant history, The Ghost is dangerously close to home and the recent past.
Conclave – set in the Vatican, Rome

Just as Harris skewered the corruptive effects of excessive power in The Ghost and earlier work, here he takes aim at the Vatican.
The Pope has died and the Cardinals are gathering to elect his successor, as they have done for centuries in the most secretive elections to be found anywhere.
In Conclave, Cardinal Lomeli heads up the College of Cardinals. The novel takes place over 72 hours in the Vatican, during which Lomeli and 117 other leaders of the Catholic faith – holy men but with personal ambitions, and rivals for power – must elect the next Pope.
As with his other books, Harris has an uncanny ability to merge fact and fiction, but it is testament to the skill of his writing that the canvas for Conclave is so claustrophobically confined and yet the story is so compelling.
Listen to this Penguin podcast to hear Robert Harris tell us more about the writing of Conclave, and all its themes, as well as about his literary career: https://www.penguin.co.uk/articles/in-conversation/podcasts/penguin-podcast/2016/robert-harris
And now:
Munich – set in Munich, Germany

As Chamberlain's plane judders over the Channel and the Führer's train steams relentlessly south from Berlin, two young men travel with secrets of their own.
Hugh Legat is one of Chamberlain's private secretaries; Paul Hartmann a German diplomat and member of the anti-Hitler resistance. Great friends at Oxford before Hitler came to power, they haven't seen one another since they were last in Munich six years earlier. Now, as the future of Europe hangs in the balance, their paths are destined to cross again.
When the stakes are this high, who are you willing to betray? Your friends, your family, your country or your conscience?
You can follow Robert Harris on Twitter and you can buy all his books through TripFiction.
Other authors on location:
Follow Robert Harris on Twitter and Facebook
Do come and join team TripFiction on Social Media: