Thriller set in Brazil. Author Dan Smith talks about setting
1st July 2014
The Darkest Heart by Dan Smith – thriller set in Brazil.
A deep red and black cover that is indicative of content: blood, brooding encounters, a roiling river and the shadow of death. Ancient folklore and legend weave their way through the prose. A gripping thriller to take you to the heart of Brazil.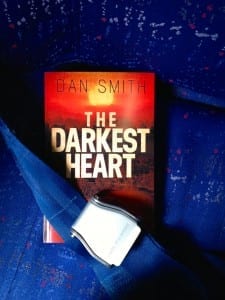 Zico is a young man who has escaped the favelas and settled in fictional Piratinga, situated on the Rio das Mortes in Minas Gerais. He is trying to build some kind of life with his girlfriend Daniella but before he can settle down he has one final 'job' to execute for Costa, the local war lord. He is to target and kill a nun, Sister Dolores Beckett who is heading to Mina dos Santos to in order to negotiate on behalf of the natives there… they are embattled over the land grab masterminded by the owners of the local mine.
Much of the story takes place along the river, in the company of Zico's good older friend Raul, who owns the rust bucket of a boat, the Deus e o Diabo in which they find themselves. The author beautifully captures the tension amongst the passengers whose numbers are swelled by Leonardo, who has insinuated himself into the group. His cocaine habit makes him, however, very unpredictable. Guns abound, stand-offs and near misses all build the tension as Zico and Leonardo are intent on fulfilling their own individual missions.
The river in itself is a major player in this book, it is a dark awesome presence, so wide at parts, full of beasties that will attack you at the drop of a hat. Leonardo gets attacked by a jacaré and a boto gets snarled in the engine which bodes bad luck. The elements, the jungle, the sand, the insects all serve to foment the storyline. And with location being such a big part, over to Dan and how he has been inspired to make location such a strong feature in his books:
When people ask me where I'm from, it's not always an easy question to answer. I was born right here in the North East of England, but was soon whisked away with my parents to Sierra Leone. After a brief return to the North East, we moved to Indonesia, then Brazil. Oh, and there was boarding school in the South East of England, but that doesn't count. Boarding school was . . . limbo. When I was a little older, as a student, I spent a year abroad, sharing the months between Spain and Russia.
So I passed my formative years living in all kinds of wonderful places and visiting other wonderful places. It's a lifestyle that is, I think, largely responsible for my love of books – for many years books were the only form of entertainment available to me once the sun had set. And is it any wonder that I look to distant horizons for the locations I write about in my thrillers? I am drawn to stories set elsewhere.
Place is as much a part of my novels as the characters and the plot, and I'm lucky enough to be able to call upon some of my own experiences to make those places feel as real as I can. My first novel Dry Season is set in Brazil and is inspired by the frontier town close to where I lived. 800 miles from the nearest city, it was isolated, primitive, dangerous, and filled with colourful characters. It's an ideal place for a story and hopefully I captured some of its dusty atmosphere. My second novel, Dark Horizons, is set in Sumatra and much of the action takes place on the banks of Lake Toba, an area I knew very well. My third novel, The Child Thief, was more of a departure from the familiar for me. Set in Ukraine after the Civil War, it's a place with which I'm not so familiar. I have been to Ukraine, but my stay was brief and, though I sometimes feel old, I wasn't around in the 1930s. But I've had some experience of the Soviet Union. Six months in Moscow before the break-up gave me a small insight into the people and their beliefs and customs, so I wasn't entirely in the dark. I felt as if there was a part of me that wanted to stay in that culture, to explore it a little deeper, so came Red Winter, set during the Russian Civil War. In Red Winter I looked more deeply at the folktales that I had touched upon in The Child Thief, becoming fascinated at how grim they really are. There's something hard and unyielding about those stories, and indeed that culture, but it's a surface hardness in a world where a public smile is a sign of weakness, but a friend is a friend for life.
And now The Darkest Heart comes along, cutting through the waters of a vast Brazilian river, carrying its cargo of . . . well, you'll have to wait and see. For this novel I've gone back to the sun and the thunder and the torrential rains that only fall over the rainforest. So let me take you on a trip along the Araguaia river, and let's head deeper up the River of Deaths, where the unseen lurks among the trees that close in around the banks. And if you survive I'll take you somewhere else, I promise. But I can also promise you another thing; there will be darkness.
Thank you to Dan for sharing his insights on why location is so important in his work. You can follow Dan on Twitter and Facebook and read our review of Red Winter, set in Russia here.
Come and join TripFiction on social media Twitter, Facebook and Pinterest and when we have some interesting photos we can sometimes be found over on Instagram too.