Little known facts about best-selling author Robert Harris
25th July 2019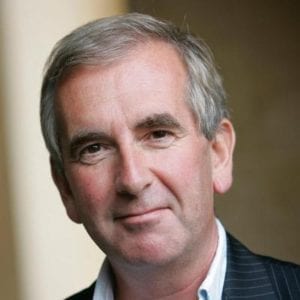 Robert was brought up on a council estate in Nottingham. His father worked at the local printing plant, which fuelled Robert's ambition to become a writer.
After school, Robert went to Selwyn College, Cambridge, where he was President of the Union and editor of the student newspaper Varsity.
His first job was with the BBC, working on news and current affairs programmes, including Panorama and Newsnight. His first book, a study of chemical and biological warfare – A Higher Form of Killing – was written with fellow BBC journalist Jeremy Paxman, and was published in 1982.
Several other non-fiction books were published throughout the 1980s, including Selling Hitler, an investigation into the Hitler diaries scandal.
But it is his 'alternative history' novels that have made Robert's name and fortune. The first, Fatherland, was published in 1992 and imagines a world where Germany won the Second World War. Robert has said that earnings from that book allowed him to buy a large house in the country, where he still lives.
Subsequent novels include alternative takes on the Enigma code, the election of a new Pope, Pompeii, Cicero, Tony Blair, and the appeasement of Hitler. Read this TripFiction Authors on Location post for more information on some of Robert's best-selling novels.
Robert is married to Gill Hornby, a writer herself and sister of novelist Nick Hornby. They have four children and live in a former vicarage near Newbury, Berkshire.
Join team TripFiction on Social Media:
Twitter (@TripFiction), Facebook (@TripFiction.Literarywanderlust), YouTube (TripFiction #Literarywanderlust), Instagram (@TripFiction) and Pinterest (@TripFiction)