Reading the USA – a book for every State
28th October 2020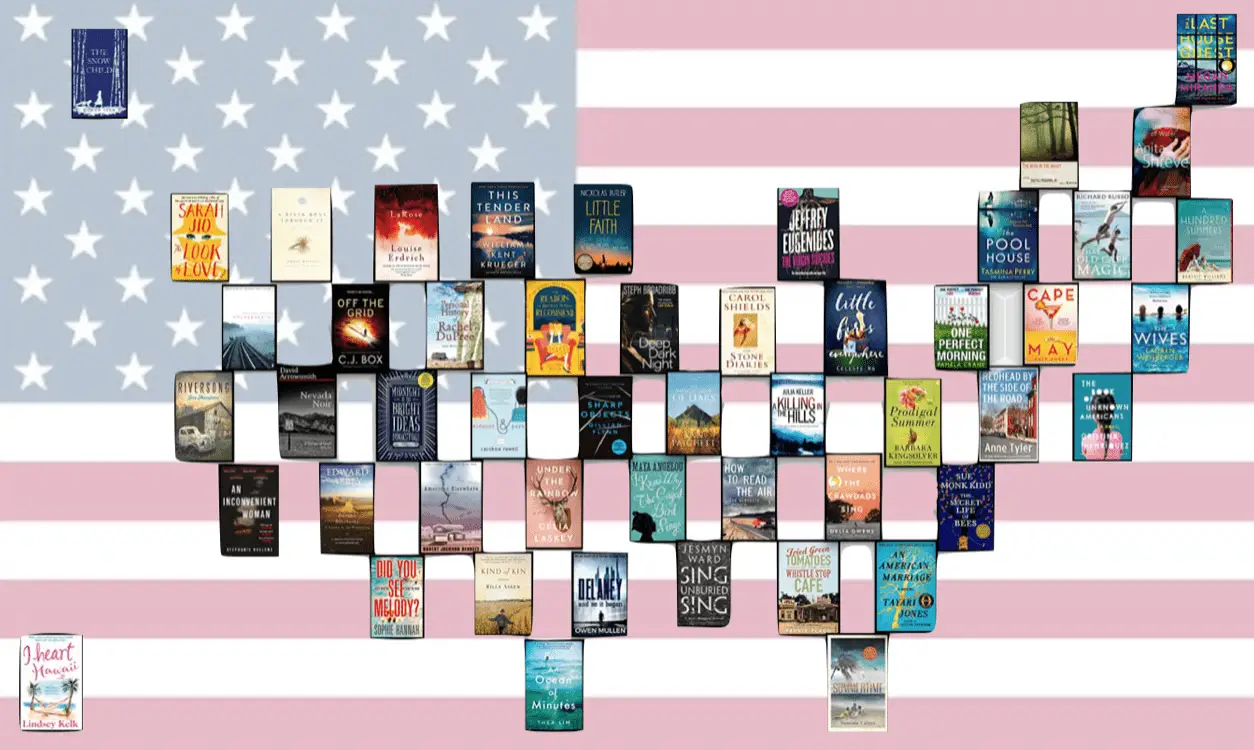 Reading the USA – a book for each State
We have chosen a great book title for every State across the USA – classic and contemporary, giving voice to well known authors and also to some lesser known writers too – perhaps introducing you to new writers. Just click on a cover in the map above to be taken down to the State and a synopsis of the book. And of course amongst the choices are some of TripFiction's favourite reads. It has been a really fun and challenging exercise to trawl through our database of thousands of books set in the country and choose just one book per State. So many authors, so many genres!
We have consciously chosen American authors who are familiar with their setting but also it can be quite illuminating when writers, based elsewhere in the world, look in on a country. So, expect a mix!
You will surely have your favourites, so tell us what they are in the Comments below. Which titles would you have chosen? We trust this post will ignite debate. Here goes, starting with a real classic:
Alabama
Set in the Great Depression and told retrospecitvely from the 1980s. Idgie Threadgoode and Ruth Jamison have opened the Whistle Stop Cafe, and the small town in Alabama became a home form home. You could get eggs, grits, bacon, ham, coffee and a smile for 25 cents. Ruth was just the and Idgie was a real character but how anybody could have thought she murdered that man ……
Alaska
A bewitching tale of heartbreak and hope set in 1920s Alaska and inspiration from a Russian fairytale
Jack and Mabel have staked everything on making a fresh start for themselves in a homestead 'at the world's edge' in the raw Alaskan wilderness. But as the days grow shorter, Jack is losing his battle to clear the land, and Mabel can no longer contain her grief for the baby she lost many years before.
The evening the first snow falls, their mood unaccountably changes. In a moment of tenderness, the pair are surprised to find themselves building a snowman – or rather a snow girl – together. The next morning, all trace of her has disappeared, and Jack can't quite shake the notion that he glimpsed a small figure – a child? – running through the spruce trees in the dawn light. And how to explain the little but very human tracks Mabel finds at the edge of their property?
Arizona

Pushed to breaking point, Cara Burrows abandons her home and family and escapes to a five-star spa resort she can't afford. Late at night, exhausted and desperate, she lets herself into her hotel room and is shocked to find it already occupied – by a man and a teenage girl.
A simple mistake on the part of the hotel receptionist – but Cara's fear intensifies when she works out that the girl she saw alive and well in the hotel room is someone she can't possibly have seen: the most famous murder victim in the country, Melody Chapa, whose parents are serving life sentences for her murder.
Cara doesn't know what to trust: everything she's read and heard about the case, or the evidence of her own eyes. Did she really see Melody? And is she prepared to ask herself that question and answer it honestly if it means risking her own life?
Arkansas
Maya Angelou's six volumes of autobiography are a testament to the talents and resilience of this extraordinary writer. Loving the world, she also knows its cruelty. As a Black woman she has known discrimination and extreme poverty, but also hope, joy, achievement and celebration. In this first volume of her six books of autobiography, Maya Angelou beautifully evokes her childhood with her grandmother in the American south of the 1930s. She learns the power of the white folks at the other end of town and suffers the terrible trauma of rape by her mother's lover.
California
When Claire Fontaine learns that her ex-husband Simon is marrying again, to a woman with a teenage daughter, her blood runs cold. She is sure that years ago Simon molested her own daughter and was responsible for her mysterious death. She can't let him get away with it a second time. Vandalism, harassment; whatever it takes, Claire will expose him.
Simon doesn't know where Claire got this delusion from; her daughter's death was ruled a suicide, but she has always blamed herself – is she just lashing out? Wanting to protect his new fiancee, he hires Sloane Wilson, an ex-cop turned 'sin-eater', whose job it is to handle delicate cases without getting the police involved, to get Claire off his back.
Sloane must navigate the wreckage of Claire and Simon's marriage to discover the truth. Two people with conflicting stories and a whole lot of reasons to want to hurt each other. Is she crazy or is he manipulative? And can Sloane stay clear-headed enough to figure it out?
Colorado
When a bookshop patron commits suicide, it's his favorite store clerk who must unravel the puzzle he left behind in this fiendishly clever debut novel.
Lydia Smith lives her life hiding in plain sight. A clerk at the Bright Ideas Bookstore, she keeps a meticulously crafted existence among her beloved books, eccentric colleagues, and the BookFrogs―the lost and lonely regulars who spend every day marauding the store's overwhelmed shelves.
But when Joey Molina, a young, beguiling BookFrog, kills himself in the bookstore, Lydia's life comes unglued. Always Joey's favorite bookseller, Lydia has inherited his meagre worldly possessions. Trinkets and books; the detritus of a lonely man. But when Lydia flips through his books she finds them defaced in ways both disturbing and inexplicable. They reveal the psyche of a young man on the verge of an emotional reckoning. And they seem to contain a hidden message. What did Joey know? And what does it have to do with Lydia?
As Lydia untangles the mystery of Joey's suicide, she unearths a long-buried memory from her own violent childhood. Details from that one bloody night begin to circle back. Her distant father returns to the fold, along with an obsessive local cop, and the Hammerman, a murderer who came into Lydia's life long ago and, as she soon discovers, never completely left. Bedazzling, addictive, and wildly clever, Midnight at the Bright Ideas Bookstore is a heart-pounding mystery that perfectly captures the intellect and eccentricity of the bookstore milieu.