Ten great books set in Rome
15th January 2018
Ten great books set in Rome.
For the next in our 'Ten great books set in…..' series, we have chosen Rome. Italy's capital city and heart of one of the great historical empires, is a magical destination offering much of interest from both history and from the present. What could possibly be better at the end of a busy day sightseeing than to curl up with a book that is firmly set in this beautiful and Eternal City?  It might even help you plan the next day's itinerary. The ten books below – novels, travelogues and memoirs – are all highly rated on the TripFiction database.
The year is 115 AD and Imperial Rome is at the height of its power. The reader wakes in a rich patrician home and discovers frescoes, opulent furnishings and richly appointed boudoirs. Strolling through the splendours of the Roman Forum, one overhears both learned opinions from intellectual orators and local dialogue and humour floating out from the public latrines. One meets the intense gazes of Roman matriarchs strolling the streets, looks on as a banquet is prepared, and is afforded a peek into the sexual habits and fetishes of Roman patricians and plebs.
Through wit, wry humor, and enticing descriptions of food and travel adventures, Judith takes you on a journey into the heart of what it is truly like to live in the Eternal City.
A combination of Innocents Abroad meeting La Dolce Vita, the author tells stories of her husband's struggles to cook Italian style, her efforts to learn the arcane rules of working for the United Nations, dogs in the doctor's office, a fall in the subway, unexploded bombs on a golf course, a countess and her butt-reducing machine, and a sinking sailboat.
One thing was sure: the unexpected was always just around the corner…..
The Pope is dead.
Behind the locked doors of the Sistine Chapel, one hundred and eighteen cardinals from all over the globe will cast their votes in the world's most secretive election.
They are holy men. But they have ambition. And they have rivals.
Over the next seventy-two hours one of them will become the most powerful spiritual figure on earth.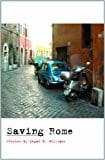 Amid the bustle of Rome, the Vespas and the Fiats, the cigarettes and teetering high heals, Megan K Williams, a Rome-based writer and correspondent, captures the essence of this bustling city.
This is an insider's eye on the love, mystery and unholy chaos of Rome. In nine funny and insightful stories, Williams delves into the lives of women searching for meaning – and survival – in an ancient metropolis.
Rome was first ruled by kings, then became a republic. But in the end, after conquering the world, the Republic collapsed. Rome was drowned in blood. So terrible were the civil wars that the Roman people finally came to welcome the rule of an autocrat who could give them peace. 'Augustus', their new master called himself: 'The Divinely Favoured One'.
The lurid glamour of the dynasty founded by Augustus has never faded. No other family can compare for sheer unsettling fascination with its gallery of leading characters. Tiberius, the great general who ended up a bitter recluse, notorious for his perversions; Caligula, the master of cruelty and humiliation who rode his chariot across the sea; Agrippina, the mother of Nero, manoeuvering to bring to power the son who would end up having her murdered; Nero himself, racing in the Olympics, marrying a eunuch, and building a pleasure palace over the fire-gutted centre of his capital.
Now, in the sequel to Rubicon, Tom Holland gives a dazzling portrait of Rome's first imperial dynasty. Dynasty traces the full astonishing story of its rule of the world: both the brilliance of its allure, and the blood-steeped shadows cast by its crimes. Ranging from the great capital rebuilt in marble by Augustus to the dank and barbarian-haunted forests of Germany, it is populated by a spectacular cast: murderers and metrosexuals, adulterers and druids, scheming grandmothers and reluctant gladiators.
A grey dawn in 1943: on a street in Rome, two young women, complete strangers to each other, lock eyes for a single moment.
One of the women, Chiara Ravello, is about to flee the occupied city for the safety of her grandparents' house in the hills. The other has been herded on to a truck with her husband and their young children, and will shortly be driven off into the darkness.
In that endless-seeming moment, before she has time to think about what she is doing, Chiara makes a decision that changes her life for ever. Loudly claiming the woman's son as her own nephew, she demands his immediate return; only as the trucks depart does she begin to realize what she has done. She is twenty-seven, single, with a sister who needs her constant care, a hazardous journey ahead of her, and now a child in her charge – a child with no papers who refuses to speak and gives every indication that he will bolt at the first opportunity.
Three decades later, Chiara lives alone in Rome, a self-contained, self-possessed woman working as a translator and to all appearances quite content with a life which revolves around work, friends, music and the theatre. But always in the background is the shadow of Daniele, the boy from the truck, whose absence haunts her every moment. Gradually we learn of the havoc wrought on Chiara, her family and her friends by the boy she rescued, and how he eventually broke her heart. And when she receives a phone call from a teenage girl named Maria, claiming to be Daniele's daughter, Chiara knows that it is time for her to face up to the past.
This epic novel is an unforgettably powerful, suspenseful, heartbreaking and inspiring tale of love, loss and war's reverberations down the years.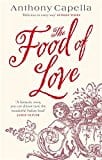 Laura Patterson is an American exchange student in Rome who, fed up with being inexpertly groped by her young Italian beaus, decides there's only one sure-fire way to find a sensual man: date a chef. Then she meets Tomasso, who's handsome, young — and cooks in the exclusive Templi restaurant. Perfect. Except, unbeknownst to Laura, Tomasso is in fact only a waiter at Templi — it's his shy friend Bruno who is the chef.
But Tomasso is the one who knows how to get the girls, and when Laura comes to dinner he persuades Bruno to help him with the charade. It works: the meal is a sensual feast, Laura is utterly seduced and Tomasso falls in lust. But it is Bruno, the real chef who has secretly prepared every dish Laura has eaten, who falls deeply and unrequitedly in love.
A delicious tale of Cyrano de Bergerac-style culinary seduction, but with sensual recipes instead of love poems.
When a young woman turns up dead in a peat bog near the banks of the River Tiber, Teresa Lupo, a maverick pathologist, believes she has the victim of an ancient Roman ritual on her hands. She's wrong. Leo Falcone, the chief inspector, knows this case is recent history and the horror is still very much alive.
So begins an investigation that will take Nic Costa and his team deep into the dark underworld of modern day Rome's most disturbing and sinister secrets. As they proceed with their enquiries, it soon becomes clear that someone is trying very hard to kill Teresa Lupo. And now another beautiful young woman has gone missing …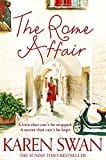 The glamorous capital city of Italy is brought to startling life in The Rome Affair, a compelling summer novel by Karen Swan.
1974 and Elena Damiani lives a gilded life. Born to wealth and a noted beauty, no door is closed to her, no man can resist her. At twenty-six, she is already onto her third husband when she meets her love match. But he is the one man she can never have, and all the beauty and money in the world can't change it.
2017 and Francesca Hackett is living la dolce vita in Rome, leading tourist groups around the Eternal City and forgetting the ghosts she left behind in London. When she finds a stolen designer handbag in her dustbin and returns it, she is brought into the orbit of her grand neighbour who lives across the piazza – famed socialite Viscontessa Elena dei Damiani Pignatelli della Mirandola. Though the purse is stolen, Elena greets the return of the bag with exultation for it contains an unopened letter written by her husband on his deathbed, twelve years earlier.
Mutually intrigued by each other, the two women agree to collaborate on a project, with Cesca interviewing Elena for her memoirs. As summer unfurls, Elena tells her sensational stories, leaving Cesca in her thrall. But when a priceless diamond ring found in an ancient tunnel below the city streets is ascribed to Elena, Cesca begins to suspect a shocking secret at the heart of Elena's life.
On the same day that his wife gave birth to twins, Anthony Doerr received the Rome Prize, an award that gave him a year-long stipend and studio in Rome…
'Four Seasons in Rome' charts the repercussions of that day, describing Doerr's varied adventures in one of the most enchanting cities in the world, and the first year of parenthood. He reads Pliny, Dante, and Keats – the chroniclers of Rome who came before him – and visits the piazzas, temples, and ancient cisterns they describe. He attends the vigil of a dying Pope John Paul II and takes his twins to the Pantheon in December to wait for snow to fall through the oculus.
He and his family are embraced by the butchers, grocers, and bakers of the neighbourhood, whose clamour of stories and idiosyncratic child-rearing advice is as compelling as the city itself.
Which titles would you add to the list? Remember there are more than 150 to choose from in the Rome listings on TripFiction…! Each will transport you to some excellent fiction, travelogues or memoirs set in the city. Or you may have your own favourites you would like to include. Please leave your thoughts in the Comments box below.
Do come and join team TripFiction on Social Media:
Twitter (@TripFiction), Facebook (@TripFiction.Literarywanderlust), YouTube (TripFiction #Literarywanderlust), Instagram (@TripFiction) and Pinterest (@TripFiction