'The Soul of Place' – thoughts on creative writing in location by Linda Lappin
1st October 2020
Linda Lappin is a prize-winning author. She is a former Fulbright Scholar to Italy, and has lived in Rome for over 30 years. Her published work includes The Etruscan (Wynkin deWorde, 2004), Katherine's Wish (Wordcraft, 2008), dealing with the last five years of Katherine Mansfield's life,  Signatures in Stone: A Bomarzo Mystery (Pleasureboat Studio, 2013), Loving Modigliani: The Afterlife of Jeanne Hébuterne (Serving House Books, 2020), and Prisoner of Palmary (forthcoming in a new edition in 2021).  Signatures in Stone was the overall winner of the Daphne DuMaurier prize for best mystery novel of 2013.
Now over to Linda to talk about her views on creative writing in location… We hope her ideas will be of value to you as you prepare your entries for our 'Sense of Place' Creative Writing Competition this autumn.
"In The Soul of Place: A Creative Writing Workbook:  Ideas and Exercises for Conjuring the Genius Loci (Travelers Tales, 2015), I suggest ways to enhance  our awareness of places and discover in our immediate environment inspiration and material for artistic and writing projects.  It's very much a personal journey, retracing  my own creative process and explorations as a writer, reader, teacher, and traveler.  Its most basic premise is that there is a power or energy at work in some, perhaps all,  places, that speaks directly to our imaginations and nourishes them.
The Ancient Romans and other peoples of the Mediterranean perceived this energy as an intelligent spirit, dwelling in every feature of the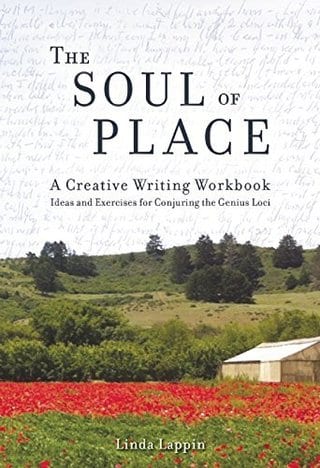 landscape, in every lifeform attached to it, and in every artifact or structure located therein. This spirit was the genius loci, or soul of place, which protected the area it governed and also determined the character of all events unfolding there and lent every place its specific atmosphere.
My research into this topic began by chance. Over two decades ago, I was on a tiny Italian island, waiting for a ferry that was late, sitting beneath a ruined Roman villa built by  Emperor Tiberius as a place of exile for his wife. In early Christian times, this island had been home to anchorites and martyrs. In modern times, it served as a detention center for undesirables under the Fascist government. So a good portion of the island's  history was bound up with exile, martyrdom, imprisonment.  While I gazed out to sea,  searching for the column of smoke which signalled the ferry's approach,  a daydream suddenly sprang into my head  in the form of a voice telling me a story.
The voice belonged to a hermit  from the latter half of the 1700s, telling me about a child born in a shipwreck and later abandoned there in his charge.  I let myself go with this fantasy, which produced a cast of characters ranging from the King of Naples to an Ethiopian slave. The voices remained with me for awhile and I did research and eventually wrote the novel, my first. Prisoner of Palmary. I had never even considered writing historical fiction before. The whole project had unrolled from a fantasy, and I felt as though I had plucked the story and its characters out of the air. Since it was my first novel, I really wasn't concerned with where the story had come from  or the processes through which it had been assembled in my mind– but truly if the ferry hadn't been late,  I would never have heard that voice or have met those characters.  In a specific moment in time, my imagination had been powerfully stimulated by something arising from that particular spot on the island.
Some months later, I rented a farmhouse on the outskirts of an old Etruscan town.  The front of the house, which had been built in the 1800s, looked out over a tidy modern village street, but the rear windows looked over the cemetery, and beyond the cemetery loomed a tall ridge riddled with Etruscan tombs now used as garden sheds. The house belonged to a family of stonecarvers, a traditional craft in that area, and there were old  handcarved stone masks, fireplaces and other decorative elements scattered throughout. It had a somber, even a bit eerie,  atmosphere – and there were large mirrors all over the place, angled to increase the light.  There was no TV, telephone, or internet – the house seemed to be turned in upon itself. Friends staying there recounted that they dreamed of the underworld or visiting the dead. I  dreamed of subways and tunnels.  Suddenly one day I just sat down at the desk before that window  and started writing a story about an Anglo-American woman who comes to Italy in 1922 to photograph Etruscan tombs for the Thesophical Society and ends up living in that house. She will have  a life-changing experience  with a man who claims to be an authority on the Etruscans, but  is not really what he seems to be. It's a gothic novel with an open ending.  I sent the first pages to an editor who commented – "It is as though the story writes itself," which is how I had experienced the act of writing it. Those pages became my  novel, The Etruscan. (Galway, Wynkin deWorde 2004). This time too, it was an encounter with the atmosphere of a place, that old house and its Etruscan setting, that had unleashed something in my imagination.
At this point, I began to realize how much the environment offered me raw materials  for my writing, and how important it was for me to listen to places.   So I began researching other writers  and their approach to setting and place, and the link between place and identity.  Eventually, this research spilled over into the writing classes I was teaching in Italy and Greece,  in the form of the prompts and exercises I created, now collected in this book, which cover landscapes and cityscapes; houses, rooms, animals, insects, and objects like keys, stones, doors, statues, sea shells,  coins, letters, maps, food items, postcards, clothing, and even garbage – all of which can be read as receptacles of the soul of place – along with placenames, recipes, sensations, odors, sounds, melodies.
Many writers, artists, photographers, psychogeographers have recorded eloquent  testimonies of the ways particular places have inspired them, and it would take too long to discuss these in detail.  But I can extract here a few recurring concepts: "Landscape is character," in the words of Henry James, later echoed by Lawrence Durrell who believed that "We are expressions of our landscape." For the Brontës and also Gaston Bachelard, the houses and rooms we live in are analogues for the self. For Virginia Woolf and Marcel Proust, humble objects like dishes or furniture can hold in store a stream of our unconscious memories which can be released by a slight shock.  For Woolf too, places live their own lives when we are absent and we may have an ongoing unconscious dialogue with them of which we are totally unaware. Travel writer Vernon Lee, friend of Henry James, believed that  we shed bits of ourselves in every place we pass through, which we can collect again at a later visit. To this I would add that houses and landscapes inhabit us just as much as we inhabit them.  I suppose my motivation in writing The Soul of Place was to map out the many cubbyholes and secret niches where the genius loci may be hiding, although of course, there are many more still to discover."
A big thank you to Linda for this very informative piece!
Catch up with Linda via her blog and website and her Twitter handle
Join Team TripFiction on Social Media:
Twitter (@TripFiction), Facebook (@TripFiction.Literarywanderlust), YouTube (TripFiction #Literarywanderlust), Instagram (@TripFiction) and Pinterest (@TripFiction)