Five great books set in Turkey
18th August 2018
Turkey is the latest destination in our 'Five great books set in…' series. 'Five great books set in Turkey'
Turkey famously straddles East and West, the Republic including land in Anatolia, Western Asia, and part of the Balkan peninsula of south-east Europe. Its history and culture reflect the apparent contradictions often emanating from this always intriguing country.
Tales from the Expat Harem by Anastasia M Ashman and Jennifer Eaton Gökmen
This is a timely anthology on being female expats in a Muslim country – and how the Turkish landscape, psyche, people, and customs have transformed their lives. As the Western world struggles to comprehend the paradoxes of modern Turkey, a country both European and Asian, forward-looking yet rooted in ancient empire, "Tales from the Expat Harem" reveals its most personal nuances.
This illuminating anthology provides a window into the country from the perspective of thirty-two expatriates from seven different nations – artists, entrepreneurs, Peace Corps volunteers, archaeologists, missionaries, and others – who established lives in Turkey for work, love, or adventure.
Poignant, humorous, and transcendent, the essays take readers to weddings and workplaces, down cobbled Byzantine streets, into boisterous bazaars along the Silk Road, and deep into the feminine stronghold of steamy Ottoman bathhouses. The outcome is a stunning collection of voices from women suspended between two homes as they redefine their identities and reshape their worldviews.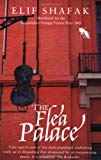 The Flea Palace by Elif Shafak
Set within a once-stately apartment block in Istanbul, The Flea Palace tells the story of Bonbon Palace, built by Russian noble émigré Pavel Antipov for his wife Agripina at the end of the Tsarist reign. It is now sadly dilapidated, flea-infested, and home to ten very different individuals and their families.
Elif Shafak gives us a bird's-eye insight into each apartment, and we see their comic and tragic lives unfold.
My Name is Red by Orhan Pamuk
In the late 16th century, during the final years of the reign of Ottoman Sultan Murat III, a great work is commissioned, a book celebrating the Sultan's life. The work is conducted in secret, to the ignorance of the artists involved, for fear of a violent religious reaction to the European style of the illuminations in the book.
An artist goes missing, feared dead, and Black, a painter who has been in a self-enforced exile because of spurned love, returns to help his former Master investigate the disappearance.
Orhan's Inheritance by Aline Ohanesian
When Orhan's brilliant and eccentric grandfather Kemal—a man who built a dynasty out of making kilim rugs—is found dead, submerged in a vat of dye, Orhan inherits the decades-old business. But Kemal's will raises more questions than it answers. He has left the family estate to a stranger thousands of miles away, an aging woman in an Armenian retirement home in Los Angeles. Her existence and secrecy about her past only deepen the mystery of why Orhan's grandfather willed his home in Turkey to an unknown woman rather than to his own son or grandson.
Left with only Kemal's ancient sketchbook and intent on righting this injustice, Orhan boards a plane to Los Angeles. There he will not only unearth the story that eighty-seven-year-old Seda so closely guards but discover that Seda's past now threatens to unravel his future. Her story, if told, has the power to undo the legacy upon which his family has been built.
Moving back and forth in time, between the last years of the Ottoman Empire and the 1990s, Orhan's Inheritance is a story of passionate love, unspeakable horrors, incredible resilience, and the hidden stories that can haunt a family for generations.
Istanbul Noir by Mustafa Ziyalan
A city at once ancient and modern, Istanbul is the quintessential postcard-perfect metropolis.
But the alluring vistas can be deceiving, for beneath this veneer as a meeting place of cultures, religions and ethnicities lies a heart of cold-blooded darkness, seething with desire, boiling with vengeance and burning with frustration.
BONUS BOOK:
Inside Out in Istanbul; making sense of the city by Lisa Morrow
For most people, Istanbul is synonymous with its world famous sights, the Haghia Sophia, the Blue Mosque and Dolmabahçe Palace. Few tourists manage to go beyond the beauty of the historical district of Sultanahmet to visit the other face of Istanbul. Yet a short ferry ride from the Bosphorus to the Sea of Marmara brings you to the shores of Asia, to an Istanbul that is vibrantly alive with the sounds of street vendors, wedding parties, dog walkers and more. The stories in Inside Out In Istanbul take the reader beyond the tourist façades deep into this sometimes chaotic, often schizophrenic but always charming city.
Lisa Morrow first went to Istanbul in 1990, and has travelled back and forth between Turkey and Australia many times. She tried living and working in Göreme and then Kayseri in Central Turkey for a while before finally settling on Istanbul. This collection of essays is a wonderful companion to her travel novel Waiting for the Tulips to Bloom: Adrift in Istanbul. She has also released a second collection of essays called Exploring Turkish Landscapes: Crossing Inner Boundaries.
Andrew for the TripFiction Team
Which titles would you add to this list? Any you would like to add to our database? Please leave your thoughts in the Comments box below.
Other posts in our 'Five great books set in…' series:
Five great books set in Naples
Five great books set in Dublin
Five great books set in Portugal
Five great books set in San Francisco
Five great books set in Edinburgh
Five great books set in Guernsey
Five great books set in Mexico
Five great books set in Alpine countries
Five great books set in Tunisia
Five great books set in Sweden
Five great books set in Croatia
And our 'Ten great books set in…' series includes:
Ten great books set in New York
Ten great books set in Amsterdam
Ten great books set in Thailand
Ten great books set in Raj era India
Do come and join team TripFiction on Social Media:
Twitter (@TripFiction), Facebook (@TripFiction.Literarywanderlust), YouTube (TripFiction #Literarywanderlust), Instagram (@TripFiction) and Pinterest (@TripFiction)