5 Great books set in South Wales, chosen by author John Lincoln
11th February 2019
5 Great books set in South Wales. Author of Fade to Grey, John Lincoln chooses Six Dark Tales
The Hiding Place
– Trezza Azzopardi (Picador)
Azzopardi's child's eye account of life in the Cardiff docklands of the early sixties made the Booker shortlist. It's a rare and haunting work, with a truly original authorial voice as it evokes a vanished world – that of Cardiff's now scattered Maltese community.
Swansea Terminal – Robert Lewis (Serpent's Tail)
The second instalment in Lewis's fabulous Robin Llewellyn trilogy is likely the finest British private eye novel of  recent decades. Llewelyn is broke-down to the point of destitution but when he gets a case he can't let go of it, no matter the risks to his health. Bleakly hilarious and plotted with deceptive brilliance, it can also be used as guide to Swansea's very worst pubs.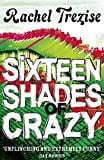 Sixteen Shades Of Crazy – Rachel Trezise (Blue Door)
There've been plenty of novels about rock bands – not so many about a rock band's girlfriends. The band are the Boobs – no-hopers from the Valleys, Their girlfriends are Ellie, Rhiannon and Sian. None of them seem to be going anywhere till charismatic drug dealer Johnny shows up in time and the old relationship start to come apart
Melting – Anna Davis (Sceptre)
Jason, Fran and Eileen are young drifters, looking to make an easy buck in nineties Britain They drift from London to Manchester to Cardiff, running a series of small scale cons. In Cardiff, though, things start to get serious as the threesome embark on one big scam, the one that could change everything. If they can only get away with it.  Smart, twisty and featuring the most unusual of gangsters.
Deadwater – Sean Burke (Serpent's Tail)
There's noir and then there's Deadwater. It begins with a man waking up covered in blood, lying on the floor of a run-down sex-shop. Was he involved in the murder of a Cardiff prostitute the night before? He was so out of it he doesn't remember. And what's more, he doesn't care. This is a genuinely nightmarish odyssey through the mean streets of the old Cardiff Docks.
Thank you so much to John for these top suggestions.
STILL TIME TO WIN A COPY OF JOHN'S NOVEL "FADE TO GREY"… ENTER OUR GIVEAWAY, CLOSES 16 FEBRUARY 2019 UK ONLY
Other posts in our 'Five great books set in…' series:
Five great books set in Naples
Five great books set in Dublin
Five great books set in Portugal
Five great books set in San Francisco
Five great books set in Edinburgh
Five great books set in Guernsey
Five great books set in Mexico
Five great books set in Alpine countries
Five great books set in Tunisia
Five great books set in Sweden
Five great books set in Croatia
Five great books set in Pompeii
Five great books set in Sicily
Five great books set in Yorkshire
Five great books set in Cornwall
Five great books set in ski resorts
Five great books set in Lapland
Five great books for tennis enthusiasts
Five great books with food at their heart
Five great books set in Tasmania
Five great books set in Cult Communities
And our 'Ten great books set in…' series includes:
Ten great books set in New York
Ten great books set in Amsterdam
Ten great books set in Thailand
Ten great books set in Raj era India
Catch John on Twitter
Come and join team TripFiction on Social Media:
Twitter (@TripFiction), Facebook (@TripFiction.Literarywanderlust), YouTube (TripFiction #Literarywanderlust), Instagram (@TripFiction) and Pinterest (@TripFiction)