Five great books set in Tasmania
5th February 2019
Five great books set in Tasmania is the latest in our 'Five great books…' series.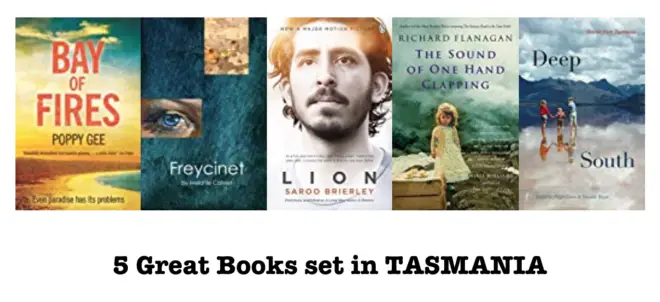 Tasmania – 'Tassie' – is an island state of Australia, separated from the vast mainland by the dangerous Bass Strait. With a population of just over 500,000 and covering an area of almost 25,000 square miles, it is now a charming, natural environment with a growing foodie culture.
But it also has a dark history, with colonisation destroying the indigenous Aboriginal population and the transportation of convicts from Britain creating harsh living conditions for many in the first half of the 19th century.
I was fortunate to spend some time in Tasmania a few years ago. Once the target of jokes from many mainland Aussies, Tasmania has now forged its own, proud way in the modern world and is well worth visiting.
Here are five books from the TripFiction database that hopefully give a good flavour of this fascinating island:
In the winter of 1954, in a construction camp in the remote Tasmanian highlands, when Sonja Buloh was three years old and her father was drinking too much, her mother disappeared into a blizzard never to return.
Thirty-five years later, Sonja returns to the place of her childhood to visit her drunkard father. The shadows of the past begin to intrude ever more forcefully into the present, changing forever his living death and her ordered life.
An enthralling and powerful novel from the winner of the Man Booker Prize in 2014 (with The Narrow Road to the Deep North)
Deep in a national park on the east coast of Tasmania, the Bay of Fires is an idyllic holiday community. There are no more than a dozen shacks beside the lagoon – and secrets are hard to keep: the intimacy of other people's lives is their nourishment.
The fact that Sarah Avery has returned, having left her boyfriend and her job, is cause for gossip in itself. Then, the bikini-clad body of a young girl is found washed up on the beach: a year after another teenage girl went missing.
Journalist Hall Flynn is sent to the coast to investigate, and all too quickly the close-knit community turns in on itself. As he uncovers long-buried secrets, the delicate balance of their fragile lives is threatened. . .
The Hunter by Julia Leigh
The hunter arrives in an isolated community in the Tasmanian wilderness with a single purpose in mind: to find the last thylacine, the tiger of fable, fear and legend. The man is in the employ of the mysterious 'Company', but his sinister purpose is never revealed and as his relationship with a grieving mother and her two children becomes more ambiguous, the hunt becomes his own. Leigh's Tasmania is a place where the wilderness can still claim lives: where the connection between people and the land is at best uneasy and cannot be trusted.
Freycinet is about obsessive love and cruel murder in the Tasmanian wilderness, as Ginny O'Byrne experiences disturbing visions of torturous fates for two missing young women. In Freycinet (pronounced Frey-sin-ay), Ginny is simultaneously enchanted but also strangely horrified by the looming peaks of the Hazards mountains as she and her fiancé, Julian, arrive at Freycinet National Park.
That night, two young women will disappear into the untamed Tasmanian wilds. Ginny is also worried by Julian's recent change of personality, and his new insistence that he and Ginny marry – immediately. Within 24 hours, Ginny will be part of a massive Search and Rescue mission, surrounded by people who may in fact be responsible for the murder of the missing women, tormented by her gruesome visions, and embroiled in an eerie atmosphere that is becoming increasingly threatening.
Freycinet is Picnic at Hanging Rock meets Twin Peaks. The exquisitely beautiful surrounds of Freycinet are also the site of the thin, tenuous, shimmery line that separates memory and forgetting, permanence and transience, sanity and insanity. It is a literary murder-mystery that will stay with you long after you have closed the book.
This is the miraculous and triumphant story of Saroo Brierley, a young man who used Google Earth to rediscover his childhood life and home in an incredible journey from India to Australia and back again…
At only five years old, Saroo Brierley got lost on a train in India. Unable to read or write or recall the name of his hometown or even his own last name, he survived alone for weeks on the rough streets of Calcutta before ultimately being transferred to an agency and adopted by a couple in Australia.
Despite his gratitude, Brierley always wondered about his origins. Eventually, with the advent of Google Earth, he had the opportunity to look for the needle in a haystack he once called home, and pore over satellite images for landmarks he might recognize or mathematical equations that might further narrow down the labyrinthine map of India. One day, after years of searching, he miraculously found what he was looking for and set off to find his family.

A Long Way Home is a moving, poignant, and inspirational true story of survival and triumph against incredible odds. It celebrates the importance of never letting go of what drives the human spirit: hope.
A Long Way Home was adapted into a major film – Lion – starring Dev Patel, Nicole Kidman and Rooney Mara.
Andrew for the TripFiction Team
Do you know any other books set firmly in TASMANIA to add to our database? Please leave your thoughts in the Comments box below, and remember that you can buy any of these books through TripFiction by clicking on the bookseller links on any book icon.
Check the TripFiction Database for our full range of books set in Tasmania
Other posts in our 'Five great books set in…' series:
Five great books set in Naples
Five great books set in Dublin
Five great books set in Portugal
Five great books set in San Francisco
Five great books set in Edinburgh
Five great books set in Guernsey
Five great books set in Mexico
Five great books set in Alpine countries
Five great books set in Tunisia
Five great books set in Sweden
Five great books set in Croatia
Five great books set in Pompeii
Five great books set in Sicily
Five great books set in Yorkshire
Five great books set in Cornwall
Five great books set in ski resorts
Five great books set in Lapland
Five great books for tennis enthusiasts
Five great books with food at their heart
And our 'Ten great books set in…' series includes:
Ten great books set in New York
Ten great books set in Amsterdam
Ten great books set in Thailand
Ten great books set in Raj era India
Do come and join team TripFiction on Social Media:
Twitter (@TripFiction), Facebook (@TripFiction.Literarywanderlust), YouTube (TripFiction #Literarywanderlust), Instagram (@TripFiction) and Pinterest (@TripFiction)